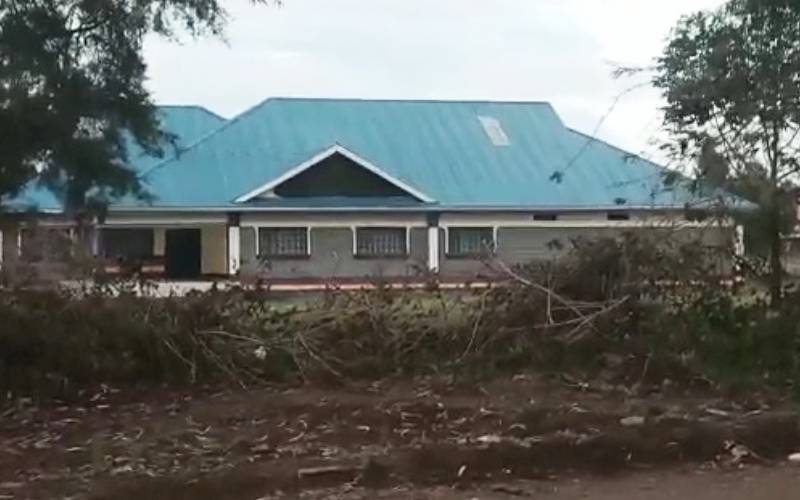 Who defaced the new Lanet Police Station in Bahati, Nakuru, County less than five hours after Deputy President William Ruto officially launched it?
On Saturday Ruto unveiled a plaque bearing his name at the station's entrance.
It was branded a National Government-Constituency Development Fund project.
"I am honoured to officially launch this new police station which will boost security in Bahati. The new building will provide a conducive environment for our officers to serve you," said Ruto.
Senior police officers and administrators in the county did not attend the Saturday morning event, leaving Lanet Police Station OCS, a chief inspector as the only senior-most officer to receive Ruto.
Hours later, fresh blue paint had been haphazardly applied on the branding and the plaque removed.
The signage at the gate branded in National Police Service colours was also removed.
Despite being a stone throw away from the old timber police station, police have denied any knowledge of the defacing.
The matter seems to be an uncomfortable topic for even the provincial administration.
They have distanced themselves from the matter, even as the residents and politicians point fingers at them.
"This is the worst mistake government officers can do. I will take the matter to court with the county commissioner [sic] who was present as the [plaque] was defaced, and later raise it in parliament," alleges Bahati MP Kimani Ngunjiri.
Ngunjiri cries foul over the defacing which he termed as political, saying he had launched several other stations earlier which were not defaced.
"The project cost the taxpayers Sh10 million. It is a legal requirement that NG-CDF projects be branded as such.
I have opened four other similar stations but now that DP Ruto was involved in this particular one, they decided to misbehave," says Ngunjiri.
"It is saddening and dangerous that selfish political interests can impede service delivery to the electorate.
I was building the new station for the people of Bahati and not those giving such instructions. This was too petty of them," adds Ngunjiri.
Nakuru County Commissioner Erastus Mbui and Nakuru County Police Commander Beatrice Kiraguri have denied any involvement in the defacing.
"Whatever Ngunjiri is alleging is not true. I didn't even attend their meeting. I am not aware of such actions. It is only the police who can speak on that," said Mbui.
"I have no information in regards to that event. I'm not aware of any defacing," said Kiraguri.
DP Ruto allies are linking a Cabinet Secretary to the defacing.
Mathira MP Rigathi Gachagua and his Kikuyu counterpart alleged that the interior CS Dr Fred was behind the defacing.
Responding to the allegations Police spokesman Bruno Shiosio said: "I'm not aware who did the defacing as alleged. And I think CS is well above such. I think the local commander can fill you in best for now..... from Bruno Shioso."
Police are yet to move the furnished building.