Battle for voting blocs splits elders down the middle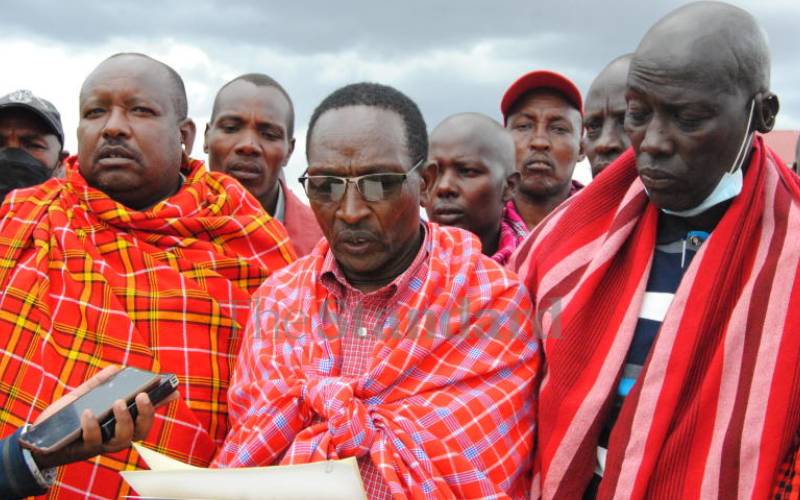 The scramble for ethnic voting blocs in the Narok governorship race has split the Maasai Council of Elders into different camps.
Two groups have emerged, each with its line-up and different models that should be used to succeed Governor Samuel Tunai, whose second and final term ends next year.
Council Chairman Kelena ole Nchoe and his patron Joseph Karia support Narok North MP Moitalel ole Kenta of ODM, while a splinter group led by Simon ole Nesiria has endorsed Patrick ole Ntutu, the Labour Chief Administrative Secretary.
Ntutu has said he will be vying for the governor's seat on a United Democratic Alliance (UDA) party ticket while supporting Deputy President William Ruto's 2022 presidential bid.
Meanwhile, Nchoe's group has been rooting for exclusive Maasai leadership in the county.
"The next county government will be a Maasai, where if we have a Purko for governor, then the deputy should be from a minority clan. We shall disown anybody bringing a non-Maasai as deputy. We need an independent Maasai county government," said Karia recently.
Currently, Governor Tunai is deputised by Evelyne Aruasa from the Kipsigis community.
Yesterday, Nesiria's group held a press conference in Narok town, where they condemned Nchoe and his patron for engaging in tribal politics.
Nesiria, who was accompanied by elders from the eight Maasai clans of Purko, Loitai, Ildamat, Iltorobo, Isiria, Ilmoitanik and Iluasin Gishu, said they wanted an all-inclusive leadership.
In a statement, they criticised the council of elders officials, whom they said had overstepped their mandate by engaging in politics.
"The sole role of the council of elders is to guide the community and foster unity, but their recent sentiments were divisive and tribal. The said elders were not speaking on behalf of the community," read the statement.
The elders reiterated that they support the unity of all communities residing in the county regardless of their tribe and political affiliation.
The elders have now called on the National Cohesion and Integration Commission (NCIC) to summon the council of elders officials over hate speech.