President Uhuru Kenyatta presides over cadets commissioning parade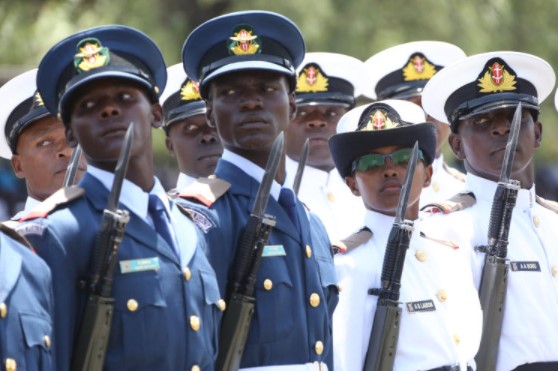 President Uhuru Kenyatta has arrived at the Kenya Military Academy, Lanet to preside over the commissioning parade of officer cadets.
The president is accompanied by Energy Cabinet Secretary Monica Juma, Chief of Defence Forces General Robert Kibochi, service commanders among other senior government officials.
The event is being conducted under strict observance of Covid-19 protocols. Families of the commissioning cadets are not attending the event.
The commissioning parade includes General Service Officers (GSOs), Specialist Cadets and Special Duty Officers from Kenya and allied countries-Uganda, Tanzania, Rwanda and Burundi.
All the commissioning cadets are graduating with the rank of Second Lieutenant.
The GSOs have been under training for the past three years and are expected to graduate with a Bachelor of Science in Military and Security studies in December, a course undertaken in collaboration with Kenyatta University.
The Specialists and Special Duty Officers undertook training for a six-month period.
The commissioning comes at a time the Kenya Defence Forces (KDF) are recruiting more officers across the country.