Kaptei Moran Dancers: At it for 65 years and still shaking legs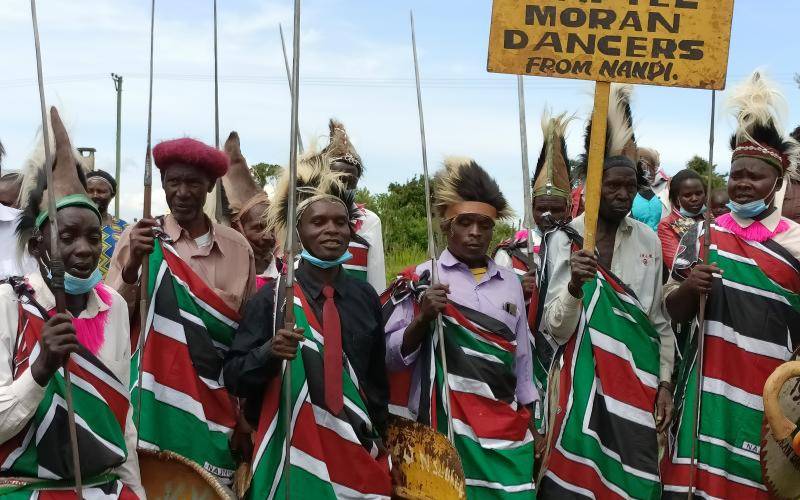 Formed in 1957, Kaptel Moran dancers in Nandi County remains a strong group regardless of dynamic transformation in education and technologies.
The group has defied all odds to maintain the cultural norms of the community through folk songs that relate the ancient Kalenjin set up with contemporary society. It is famed for the Kalenjin signature song, Ngolili belio (praising an elephant).
Interestingly, some of the ageing members joined the dancing group while aged below 18, and are still active. They have related events from the colonial era to successive post-independence regimes to date.
In Nandi County, no political event starts before Kaptel Moran dancers are invited to entertain those in attendance.
So organised are the dancers that they perfectly compose their dances in conformity with the agenda of the organisers. They thrill fans with coordinated dance, drum beats, horn blowing and swinging of spears and shields.
They invoke names of Nandi heroes, including those who died during the colonial era, and clan members who exhibited good leadership in the community.
Despite changes and influence in religious and educational development, the cultural dancers have beaten the culture shock for years since its inception by 53 members of the Tibing'ot, one of the Nandi community clans.
The dancers are all elders aged between 50 and 85.
Sylvester Saina, the dancing group's chairperson, says the group has come a long way, despite modernisation that has influenced culture and instruments used in the music industry.
"I joined the group when the community culture was rich. The folk songs were majorly formulated to cherish leaders and praise warriors who successfully returned from the inter-community wars and cattle raids," said Saina, 85.
Singing cultural music was never a talent, rather a social responsibility, except for the individuals who were gifted soloists and appointed to lead the group.
According to Saina, the 10 Nandi sub-clans, including Talai, Kamelilo, Kapchepkendi, Koilegei, Kaptalam, Kabochek, Kaptumois, Kabyanga, Kapsilei and Tibing'ot, each had distinctive songs that vary with the values of the different geographical area they occupied.
"Like us the Tibing'ot clan who majorly dwell at the central part of Nandi, during the colonial period, our great grandfathers protected the ancestral land by fiercely fighting the British using homemade metallic weapons. And songs were composed in honour of the relentless fighters," he said.
He said the cultural music attire includes jingles, headgear and gowns made from colobus monkey skin and adorned with cowrie shells.
Saina said the drums and arrows specifically made for singing were a complete set of music items for men singing to the warriors and heroes in the community.
"Most of the pioneer dancers of this group have since died while others are still active but ageing. We sang even during State functions, including entertaining the late President Jomo Kenyatta when he came to Nakuru and Eldoret in 1968 and 1979, respectively," he said.
Saina recalls that they sang for several years for the late President Daniel Moi during his visits to Nandi and always when he graced the annual agricultural shows at Kapsabet Showgrounds from the 1980s to 2000.
"We were occasionally awarded Sh100,000, which we shared amongst ourselves. But most of us dance for fun and to showcase our culture," he said.
Philip Kemboi, 72, a soloist, said it had become a source of income, though it was unreliable since there were no regular State functions.
They turned to composing cultural songs for politicians, and during every campaign, they performed for presidential and parliamentary aspirants who paid them.
"To date, we are the only traditional dancers actively still in existence. Most of us are in Sawe (the age set between 70 and 85 years). And we will soon stop singing because of old age," said Kemboi.
He said the remaining active Kaptel cultural dancers are currently 30, while around five retired from singing due to ailments.
"Our cultural songs face a bleak future because the young generation has failed to embrace them. We have tried our best, but our children and grandchildren are not willing to be trained," said Kemboi.
He said that parents had embraced modern education.
David Keter, the group secretary, said they recorded some of the music, but due to a lack of resources, they were unable to produce more songs.
"But we still perform in the community social functions mostly organised by the politicians, where we are provided with means of transport by the county government and later paid Sh1,000 or less each. We use the money to feed our families," he said.