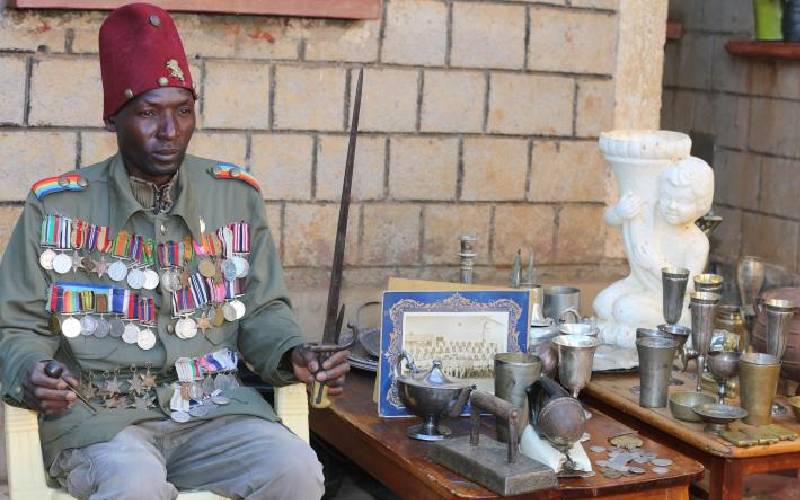 Charles Malui died in 1958, 39 years after fighting for Britain and allies during World War 1. Now two of his great-grandsons are keeping numerous historical artefacts in his honour.
Brothers Amos Malui, 41, and Richard Malui, 62, did not see the WW1 veteran.
However, their three great-uncles, who also travelled to Europe to fight for the British during World War 2 explained to them the role their great grandfather played in the 1914-1918 war.
Inside the sprawling Kisumu Ndogo informal settlement in Langas, Eldoret town, the Malui brothers, who were born in Mutumbu village in Siaya County, have a huge gallery of WW1 and WW2 artefacts in a small house.
Their sitting room is stashed with more than 100 items that were brought into the country by their great grandfather and his sons, Lucas Malui, Siguru Malui, and Henry Malui who died in 1985, 1997 and 1999 respectively.
Charles Malui – the WW1 fighter - returned to Kenya in 1919, 102 years ago. His grandsons say the artefacts are a reminder of his efforts.
The collection includes ancient iron boxes, a sword made in 1875, several WW1 daggers, and a Yorkshire Rifle Association Team championship trophy.
They also have various historical currencies, special bowls from the Ottoman Empire of Turkey, and the sculpture of a Nepal goddess.
The brothers have also kept sculptures such as those of Cologne Cathedral, and the seat of the Archbishop of Cologne, which was declared a world heritage site in 1996, and which was built in 1248.
Beside the artefacts is a framed photo, said to have been taken in the 1940s, of their great-grandfather and their great-uncles with British men. It is believed that they were being thanked for fighting for the colonialists during the world wars.
"Growing up in Siaya, we heard people describing our great-grandfather as the late Sir Charles, and we started keeping some of the items he brought from Europe," Amos says as he displays the artefacts.
Amos and Richard say they started assembling the items soon after the last WW2 veteran died in 1999.
Amos likes to wear WW2 ceremonial military gear, decorated with over 100 medals, which was given to one of his great uncles in the 1940s.
"Some of the ancient cups that they came home with are written in Greek, and we have not been able to get a translator. From the inscriptions, some artefacts are as old as 700 years," Amos explains.
He says it wasn't easy to collect the artefacts because they were not located in a single place.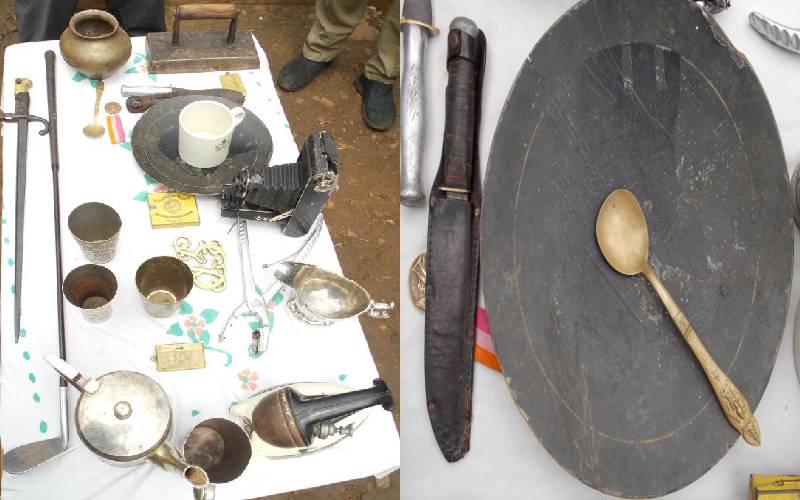 "Some of them were hidden in metallic boxes in different homes. Others were also hidden in traditional pots because no one knew their importance.
"I later started believing that these were treasures that tell the history of Kenya's participation in the world wars," he says.
According to Amos, his great-grandfather went as far as India, Palestine, South East Asia and Egypt in the WW1 mission.
One of the iron boxes, which weighs ten kilogrammes, is made of pure copper and when placed in direct sunlight, absorbs heat, becoming hot enough to iron clothes. The second iron box, he says, is heated using kerosene.
A wooden plate which has a man riding a beast painted on it, as well as cups, said to have been donated to the WW2 fighters, are in the collection.
There is also the historical American independent coin dated 1759 and which has the inscription 'he that soweth bountifully shall reap bountifully', as well as an Italian currency that has former Prime Minister Benito Mussolini's image.
"Our biggest problem is establishing a museum for these artefacts. I wish to meet the Heritage Cabinet secretary over this issue," Amos says, noting that he has been unsuccessfully trying to set up a museum for more than a decade.
"We are also considering selling these items to anyone who has the resources to set up a museum. We consider them a treasure, and guarding them has not been easy. There was a time I was invited to exhibit these historical items in London, but I didn't have money for an air ticket," he says.
His elder brother, Richard, says they got information about their grandfathers' participation in the world wars through their parents.
"Our grandfathers were given some artefacts as presents for fighting, and others such as the swords and daggers, cups, iron boxes and bowls were their basic items," Richard says.
He agrees with his brother on selling the items to set up a museum, saying it will preserve the memories of their great grandfather, and give Kenyans an opportunity to view the artefacts in a gallery.