How athlete Agnes Tirop died, autopsy reveals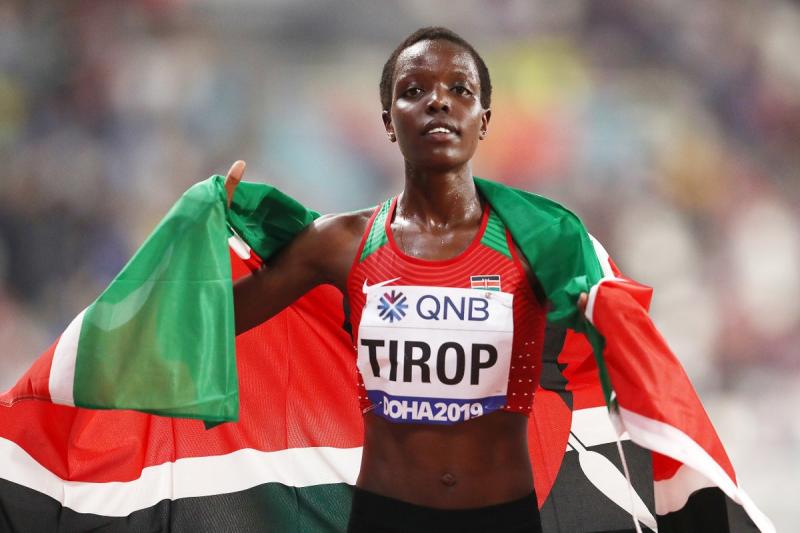 Slain athlete Agnes Tirop's life was ended by a stab on the neck, an autopsy conducted yesterday has established.
The postmortem examination is done by two pathologists at the Iten County Referral Hospital (ICRH) mortuary also revealed that the international athlete was hit on the head with a blunt object.
The autopsy was done by Government pathologist Dr Dorothy Njeru, a family pathologist and witnessed by a forensic physician at the ICRH.
Relatives led by the late Agnes Tirop's parents Vincent and Dina Tirop were present at the county funeral home from 8 am.
Other family members at the morgue were athlete's brother Timothy Limo and cousin Jeremiah Sawe.
It was a long day as relatives sat patiently waiting for the autopsy to be done. At 3 pm, Dr Njeru arrived and conducted the postmortem for three hours.
A team of Directorate of Criminal Investigations (DCI) officers from Nairobi, led by the head of homicide unit Martin Nyaguto, were present at the mortuary.
"We have conducted this postmortem as a team of two pathologists and a forensic physician from ICRH," Dr Njeru said.
She continued: "Generally, the examination has shown injuries due to blunt post-trauma."
When asked about the number of stab wounds, the government pathologist said the details will be revealed by the DCI officers who are currently investigating the cause of Tirop's death.
"We have prepared a report which has been issued to the DCI for further analysis. The stabs were to the neck and the blunt trauma was to the head," the pathologist said.
The late athlete's father said he was thankful to government investigators for helping the family in its quest to establish the truth about the killing.
The autopsy came just a day after the prime suspect in the killing, Ibrahim Rotich, was arraigned at the Iten Law Courts where Senior Principal Magistrate Charles Kutwa ordered his detention at the Eldoret Police Station for 20 days for the police to conclude investigations.
After the autopsy, the family moved later moved the body to Eldoret Hospital mortuary ahead of burial in Kapnyamisa village, Nandi County, on Saturday.
"There will be a fundraising on Wednesday (today) aimed at giving my sister a befitting burial on Saturday. We are moving the body to Eldoret to ease our preparations for burial," said Limo, the late athlete's elder brother.
The athlete represented Kenya at the 2020 Olympic Games in Tokyo, Japan.
She also represented Kenya in 2017 and 2019, winning bronze in 10,000 metres in the two biennial competitions.
She was found dead at her house in Iten, Elgeyo Marakwet County, where she had been training in for over six years.