Fungal maize disease threatens maize yields in Uasin Gishu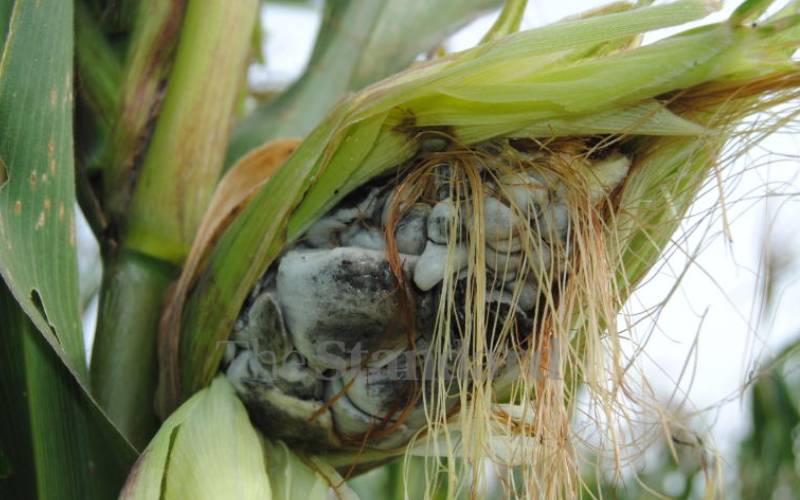 Maize farmers fear a drop in yields due to a fungal disease, months after delayed rains disrupted the planting season. Some farmers have reported existence of head smut, which affects pollination, thus reducing crop productivity.
County Crop department confirmed yesterday head smut existence, stating that an estimated 6,179.8 acres under maize is affected in the current season where farmers planted over 104,000 acres.
Thomas Korgoren, a maize farmer, said the condition is characterised by a dusty blackish residue on maize flower.
"The affected maize crop starts to dry and does not produce the expected maize cob and grain. We cannot use the affected maize stalks because we fear it could be cancerous," said Mr Korgoren.
Jackson Kwambai, a farmer from Moiben, called on the county administration to support farmers, through enhanced extension services, to enable them make informed decisions while cultivating food crops.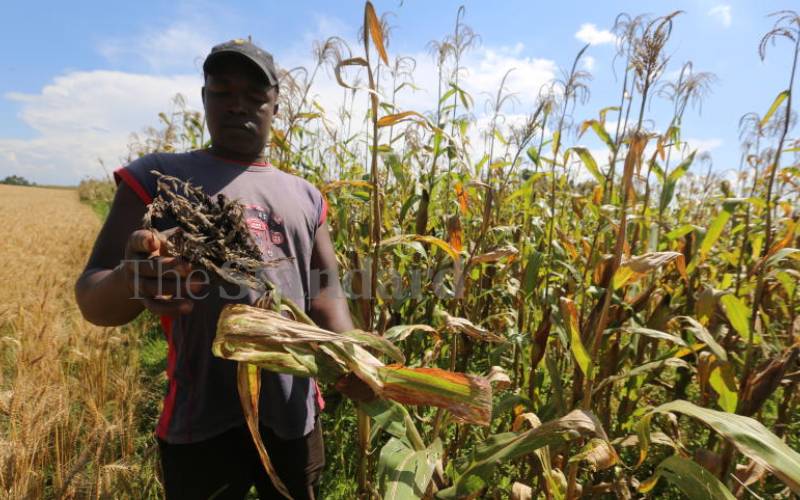 Agriculture Executive Samuel Yego confirmed that head smut had been noticed in maize growing areas, saying the fungal disease could affect the yield at the end of the season.
"The condition emerges when maize starts to flower. A blackish formation blocks pollen, thus affecting pollination. The affected crop will not yield," said Mr Yego.
The executive said failure to practice crop rotation aggravates spread of the fungal disease in affected farms.
He said unless the affected crop is destroyed, the condition will spread further and affect future harvests.
"Farmers are advised to ensure they do crop rotation to cut the cycle of the fungal disease. They should also use certified seeds and avoid planting crops of grass family in the same farm that had suffered the effect," Yego cautioned.
Uasin Gishu County Crop Officer Joash Wafula said 438 farmers have reported the disease on their farms.
"Farmers whose farms are affected include 49 from Soy sub-county, 34 (Moiben), 226 (Ainabkoi), 42 (Kesses) and 28 (Kapseret), spreading across an estimated acreage of 6,179.8 acres," said Mr Wafula.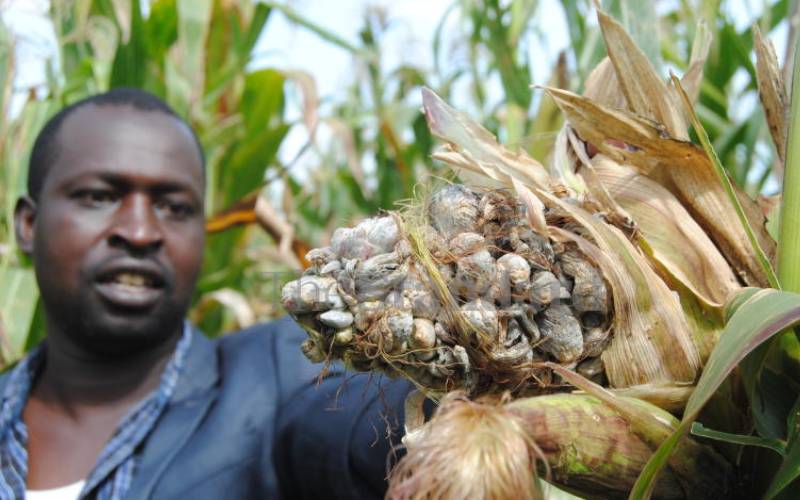 The official said dry and cool weather that delay seedling growth favours the early stages of head smut disease.
"Once in the plant, dry and warm conditions of between 70 and 86 degrees Fahrenheit favours fungal development. The disease is prevalent in nitrogen-deficient soils with weeds and moisture stress."
He said the disease starts at seedling stage and grows through the plant, but remains asymptomatic until it reaches reproductive stage.