Pakistan job seekers using Nairobi for transit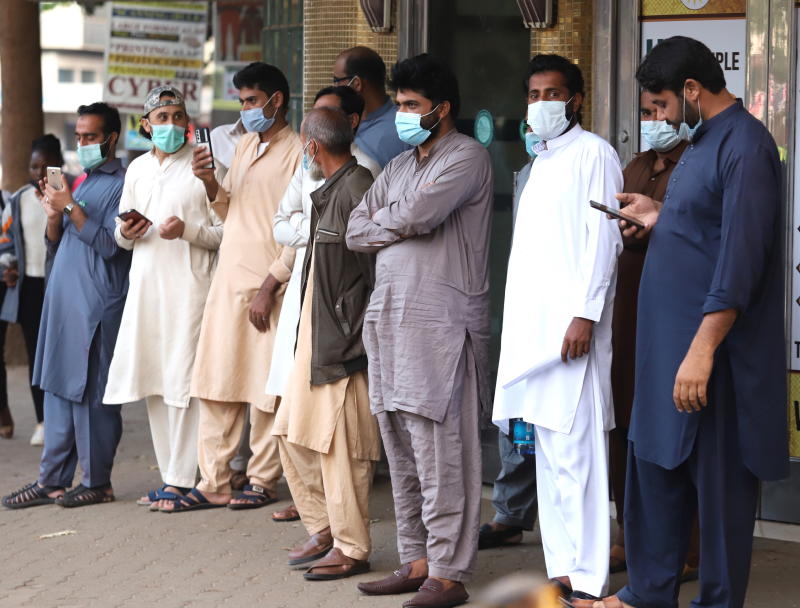 For weeks now, Kenyans on various platforms have been speculating about an influx of Pakistani nationals in Nairobi and its environs.
More concerns were raised over the weekend after group of the foreigners trooped into an apartment at Great Wall Apartments within Athi-River, after alighting from a city bus carrying huge briefcases.
The men who walk in groups have been conspicuous with flowing robes are scattered in Ongata Rongai, Buru-Buru, Syokimau and some parts of Kasarani.
At the city centre, they have been spotted along River Road, Luthuli and some areas with cheap accommodations in downtown areas where they have booked rooms and spend evenings strolling around the city.
On Tuesday evening, The Standard caught up with some of them at popular hotel along Muindi Mbingu.
The group comprising of youthful and middle-aged men were leaning on the wall of the hotel as they enjoyed music by Uganda's street musician Sam Kule. Others were busy taking videos on their mobile phones.
"We don't understand what he is singing about but we enjoy his music," Imtiaz Hussain one of the men responded in broken English.
As he spoke he was constantly looking at his counterparts as if afraid to engage strangers.
"We are not tourists but labourers on transit. At the moment, we are on quarantine for 14 days. I was among the first batch here and I only have five days to go before proceeding to Saudi Arabia. Most of us are on transit to go and work there."
When asked what kind of work he was going to do in Saudi Arabia he responded, "I'm going to work as plumber."
His counterpart Hassan Bilaal explained that before they left Pakistan, an agent who organized their trip to Saudi told them he had contacted someone in Nairobi who booked them at a hotel for 14 days. They were to be tested for Covid-19 before proceeding to Saudi.
"Most of us have been tested that is why we can move around. Our agent told us there are strict restrictions on travelling directly to UAE, that is why we had to first come through Kenya. I'm a qualified engineer and got a job as machine operator," Bilaal said.
He explained that as per their religion, they are not allowed to move around with women.
"Our women are supposed to be housewives. They cannot go to work in foreign lands like what we are doing now," he added.
Minutes to 6.30pm, some of the men broke away from the group. We tracked about five of them and found that they had checked into the Jamia mosque for evening prayers before returning to the hotel.
Undergoing tests
A hotel staff along River Road where some Pakistanis are staying told The Standard that the visitors have been undergoing tests conducted by doctors invited by management.
"We received the first group of 30 men on September 10, from a local agent who said the visitors would stay here for two weeks. Another group followed," he explained
"We invited some doctors to carry out the exercise at cost of Sh6,000 per person. More than 100 foreigners have been hosted here and about 30 have already left after the 14 days period," he added.
Contacted for comment, Government spokesperson Col Cyrus Oguna said they were aware of the presence of Pakistani citizens in the country and a directive will be issued in relation to that.
An official at Ministry of Immigration told The Standard that the foreigners are in the country because Kenya was listed among three African countries for exit for people heading to United Arad Emirates Countries.
He added that the Pakistanis are a boost to the hotel industry that had been struggling since the Covid-19 pandemic.