Tiaty MP William Kamket and former legislator Mathew Lempurkel arrested over deadly Laikipia violence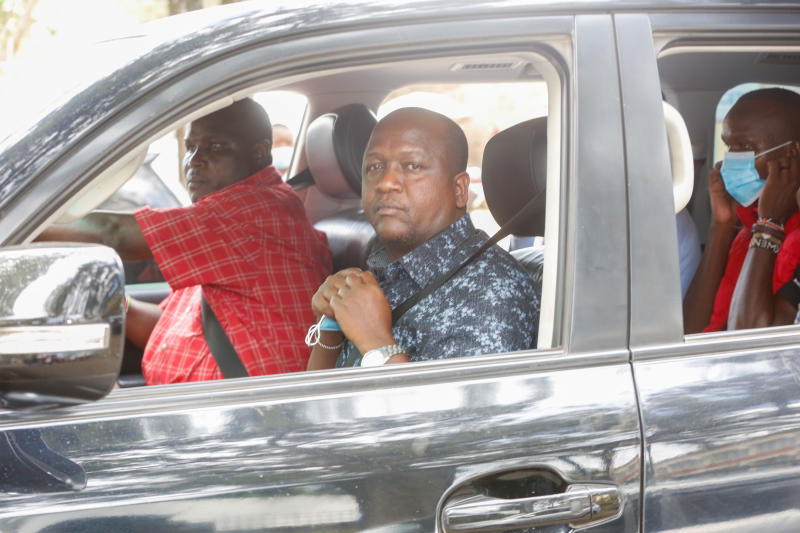 Two politicians have been arrested hours after the government blamed the violence in Laikipia County on political incitement.
Tiaty MP William Kamket and former Laikipia North legislator Mathew Lempurkel were held in Nairobi and Baringo over the violence that has left eight people dead and hundreds displaced.
Rift Valley Regional Commissioner George Natembeya had earlier said the two politicians were among three leaders linked to the skirmishes.
Kamket was arrested in Kabarnet, Baringo, in an operation led by Baringo County Police Commander Robinson Ndiwa.
Lempurkel was picked at his home in Ongata Rongai and driven to the city where he was interrogated for hours.
"I was at home when DCI officers arrived in two vehicles. They have not told me why they have arrested me," Lempurkel said.
Kamket was transferred to the Rift Valley Regional Criminal Investigations headquarters in Nakuru. He was escorted by a lean team of friends and supporters.
After being grilled for nearly an hour, Kamket emerged with handcuffs and was taken to the Nakuru Law Courts and later to the Nakuru Central Police Station. Detectives then moved the MP to the Kaptembwo Police Station.
"Most illegal herders causing mayhem in Laikipia are from Baringo County. They are employees of prominent people, including Kamket. The herders have been incited that they should not leave Laikipia. Peace must prevail," said Ndiwa.
Incitement to violence
He said their efforts to restore order had been met with resistance from the armed herders.
"We had to arrest the MP to answer to charges of incitement to violence. He might face additional charges. So many people have died, animals stolen, and property destroyed," said Ndiwa.
According to Ndiwa, other individuals directly involved in the violence have recently been arrested and charged in court.
At the Nakuru Law Courts, Kamket's lawyer Kipkoech Ngetich expressed his frustrations with the police.
"They have been moving my client to different police stations and the courts, but no case has been filed. This is a delay tactic to have the MP spend the night in custody," said Ngetich.
In January, the MP was arrested over similar killings in Kapedo, Baringo, where at least 20 people, including GSU officers, were killed.
Natembeya said over 300 families had been affected. "Twenty-two homes have been burnt in two attacks. 150 families displaced and another 200 families are only returning to their homes during the day. But we have restored calm. There were no attacks in the past 24 hours," said Natembeya.
According to Natembeya, the attacks were planned within various conservancies where well-connected persons are said to have delivered weapons and food supplies to the bandits.
"Some helicopters were seen landing within the conservancies where the bandits are hiding. When we started questioning their activities in the area, they vanished," said Natembeya.
"Before the ongoing operation, eight people lost their lives among them, three police officers. Four civilians and two police officers are nursing bullet wounds."
Natembeya said the majority of the livestock that had been moved into Laikipia Nature Conservancy had been moved out by the herders as ordered.
"The herders are driving the animals towards Samburu, Isiolo and Baringo counties. Police have been deployed along routes they have taken to ensure there are no attacks as they move out," he said.
To bolster security and surveillance, the government has engaged the services of National Police Reservists (NPRs) to help the police monitor activities of the attackers.
"The people carrying guns and escorting animals are only servants. We are aware that their bosses are planning to move out the animals and bring back morans to fight residents and security officers. We will not give them that chance," he said.
Those funding the violence were put on notice. "The moment we shall have tangible evidence against them, we shall make them pay for their actions."
He took issue with a section of local politicians whom he accused of capitalising on the insecurity for their political interests.
"Some politicians are using the situation to push their agenda. Some are hoodwinking residents that it is them mobilising security officers. It is not humanly acceptable," said Natembeya.
He attributed the attacks to retrogressive culture, noting that thousands of acres of private land had been left idle after the owners were displaced in the run-up to the 2013 General Election.
Families on the run
Affected families are being hosted by relatives, churches and learning institutions in safer trading centres.
Martha Muthoni, who is camping at Ol Moran Catholic Church with her three children, recounted how the Monday attack on Ratia Village happened.
"We were preparing supper at around 7pm when we heard gunshots. Over 30 armed men had invaded my compound. My children and I pleaded for their mercy, and they made away with my only three sheep," said Muthoni.
James Kariuki, whose family is camping at Ol Moran Deliverance Church, said he has been forced to graze his animals at his Mirigwit farm during the day and return with the animals at the church before sunset.
"I have never witnessed such a situation before. I am lucky that my family is safe and my animals have not been stolen," said Kariuki.