Three people killed in Kericho-Nakuru highway accident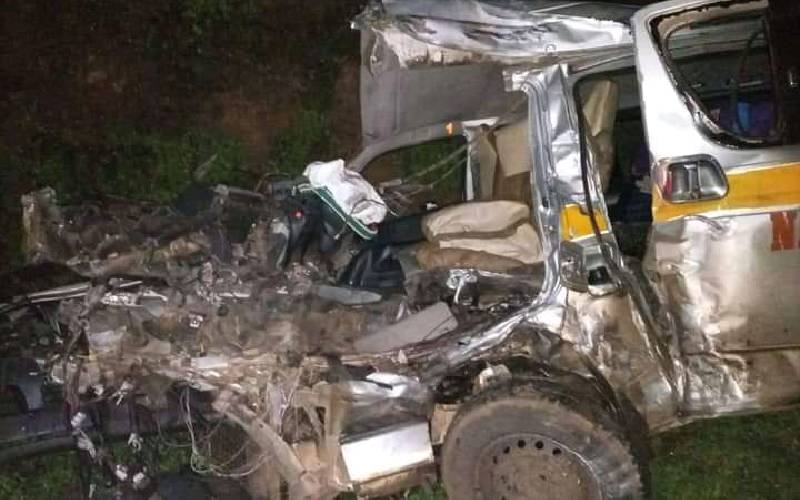 Three people have died after a Nissan Matatu collided with a lorry at Jubbert area along the Kericho-Nakuru highway.
While confirming the incident, Londiani OCPD Joseph Mutungi said the Wednesday 9:45 pm accident occurred after the 14-seater Matatu belonging to Nanak Kisii Sacco collided head-on with the lorry belonging to Swan transporters.
Mutungi said the three (the driver of the matatu alongside two passengers) who were the only occupants in the vehicle died on the spot.
The police boss said the lorry was heading towards Kericho direction from Nakuru while the Matatu was headed in the opposite direction.
"On reaching Jubbert, the Nissan driver decided to overtake a vehicle which was in front of it only to collide with the lorry. The driver of the Matatu and two passengers died on the spot. They were the only occupants in the vehicle," said Mutungi.
He although the driver of the lorry escaped unhurt, the matatu had been written off due to the impact of the accident.
Mutungi said they suspect that the driver of the Nissan Matatu might have lost visibility as it was drizzling at the time of the accident.
"We have nonetheless towed the motor vehicle wreckage to Londiani police station to await motor inspection to determine whether mechanical issue led to the accident," said Mutungi.
The bodies of the deceased were removed to the Molo sub-county hospital mortuary to await postmortem.
The Wednesday night accident comes three days after five people died at the same spot on Sunday after the left rear tyre of 14-seater Matatu they were travelling in burst.