Nakuru's rise: What makes a town attain city status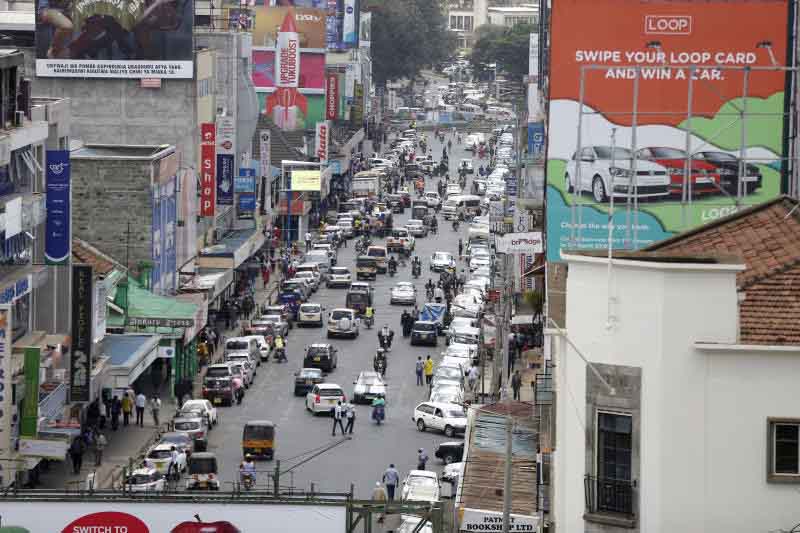 Nakuru's rise and imminent elevation to a city might have been the nudge that other towns need to launch their elevation bid to city status.
The elevation rubberstamped by the Senate on June 3, this year now awaits presidential assent. It could give Rift Valley the first city.
Kenya now has four cities - Nairobi, Mombasa, Kisumu and the newest kid on the block, Nakuru with plans for more cities in the pipe including Eldoret and Nyeri.
According to the Urban Areas and Cities (Amendment) Act, 2019, an area should have a population of at least 250,000 to be considered for conferment as a city.
It should also have planning and development control, city economic development plan, traffic control and parking, water and sanitation, street lighting, outdoor advertising, cemeteries and crematoria, public transport, library services, storm drainage and ambulance services.
A city should also have health facilities, firefighting and disaster management, electricity and energy providers such as gas, kerosene and biomass.
Other requirements include abattoirs, refuse collection, solid waste management, pollution (air, water and soil) control, child care facilities, pre-primary education and local distributor roads among other services.
An area cannot be granted city status if it does not have conference facilities, community centres, a county hospital, constituent university campuses, a polytechnic, a national school, a stadium, an airport, an airstrip, a theatre and a library.
It should also have a museum, a historical monument, a fire station, emergency preparedness, postal services, a funeral parlour, recreational parks, management of markets and animal control. Others are welfare, religious institution, organised public transport, information, communication and technology services and telecommunication services.
With so many requirements to be fulfilled, are some of the towns gunning to be promoted to cities ready and is the effort worthwhile?
"The future of Kenya is urban," says Principal Physical Planner with the County Government of Nyeri Joseph Njomo.
Njomo however points out that the elevations need to be carried out with caution to avoid running into challenges that would be experienced due to poor planning.
Possible land-use conflicts could also hamper the running of cities. This calls for an established management formula and structure to prevent the cities from being dysfunctional.
"With the challenges that come with urbanisation, ranging from connectivity and accessibility, issues such as transport network, social services and utilities in demand, economic infrastructure, and, conserving the natural environment to sustainable levels, there is always a great and indispensable need to have a serious and semi-autonomous management structure to ensure there is sustainability in making our urban areas functional and devoid of the unnecessary conflicts of land use," Njomo says.
Urban centres
"It becomes imperative to keep monitoring how the various urban areas are developing so that any necessary upgrade from one category to another is addressed in earnest to enable an advancement in its management also."
There are three other categorisations of urban centres in the country - municipalities, towns and market centres. Alongside having populations of at least 50,000, municipalities should have facilities such as county hospitals, university campuses, a polytechnic, a county school, stadiums and an airstrip.
They should also have planning and development control, traffic control and parking, water and sanitation, street lighting, outdoor advertising, and cemeteries and crematoria among other services.
For towns, they should have a population of at least 10,000, with facilities such as street lighting, cemeteries and crematoria, library services, health facilities, sports and cultural centres or facilities, funeral parlours or mortuary, cemetery and recreational parks.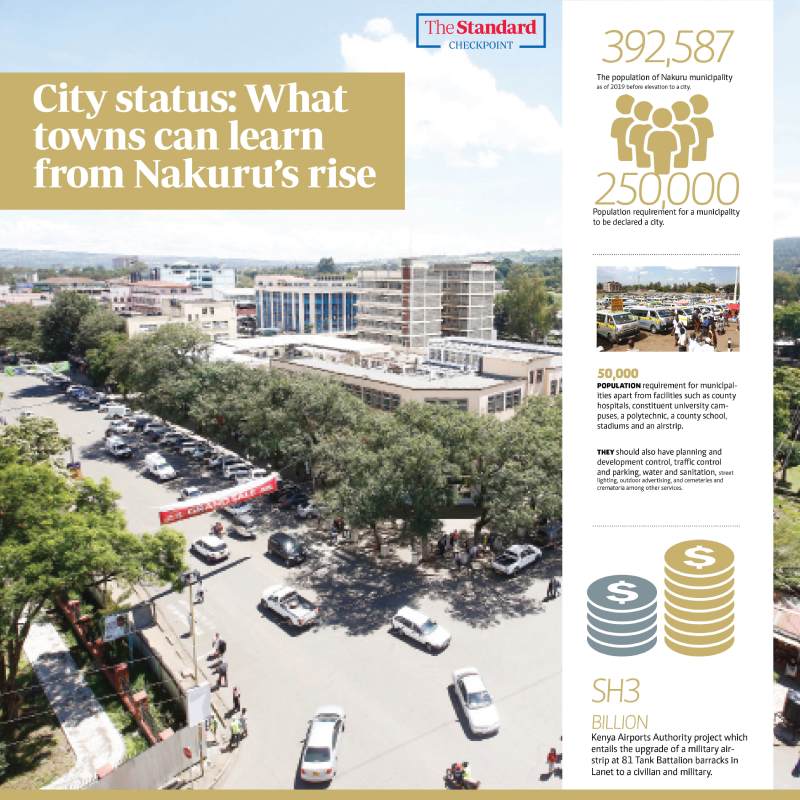 Market centres, the smallest of these urban areas, have to strike a threshold of a population of at least 2,000, street lighting, health facilities, and sports and cultural centres among other facilities.
Nakuru had crossed the threshold of being named a city. To many, including Nakuru Governor Lee Kinyanjui, the promotion was long overdue. "On the population quota, the committee found that the municipality has a population of 392,587 as of 2019 surpassing the 250,000 mark set in the Act. It has also come up with a spatial development framework 2014-2034," said Homa Bay Senator Moses Kajwang, the chair of the Senate's Standing Committee on Devolution and Intergovernmental Relations.
The committee also observed that the municipality had demonstrated capacity to generate sufficient revenue to sustain its operations, at 54 per cent (Sh996.45 million) of the total county revenue of Sh1.85 billion in the 2018/2019 financial year and Sh708.11 million in the 2019/2020 fiscal period.
With the rise of Nakuru City, Njomo is confident other towns will strive to become cities. "We shall continue having more cities as more municipalities exceed the 250,000 population threshold and acquire the 49 key services required for a city status," noted Njomo.
"This is for the best interest of ensuring that they get the required management attention to avoid cases of urban decay."
To boost Nakuru's glorious rise to city status, the Kenya Airports Authority (KAA) selected a contractor in August last year to undertake a Sh3 billion project which entails the upgrade of a military airstrip at 81 Tank Battalion barracks in Lanet to a civilian and military airport — silencing those who demonised the city for its lack of an airport.
With the elevation of the new status looming, the Kenya Association of Manufacturers South Rift chair Peris Mbuthia said the city status would create a bigger market for goods and services.
Business ventures
This is one of the benefits that Kenyan towns gunning for this promotion will accrue. Njomo concurs.
"This (the elevation of status to a city) comes with its own social, economic and environmental gains as positive ripple effects are diverse," he says. Cities also come with their own share of challenges. They are lucrative for people intending to carry out business ventures and attracting huge populations that come in pursuit of livelihoods but also experience challenges such as sanitation, housing, growth of slums, congested social amenities, crime and traffic congestion.
This calls for the State and counties to have ways of addressing such problems even in the long-term, otherwise, the promotions would be a poisoned chalice. "Habitable and decent housing is also a key issue of concern in urban management," says Njomo.
The affordable housing programme that is being undertaken in the country, and which is one of President Uhuru Kenyatta's Big Four Agenda, may just be the panacea to the growing need for housing in the city. In future cities, just as the urban population in the country, enumerated at 14,831,700 in 2019 could swell if other Kenyan municipalities gain city status