Crimes of passion: Boy and woman, 33, killed in separate love incidents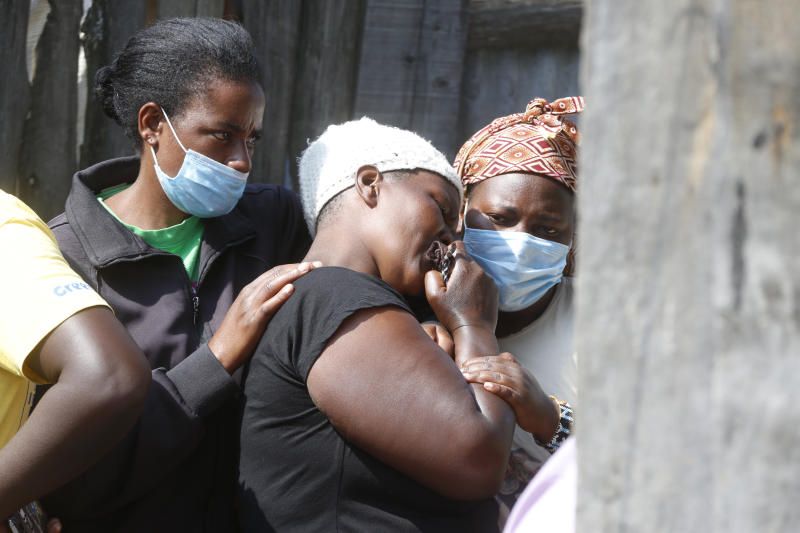 Residents of Nakuru County yesterday woke up to two murder incidents involving lovers.
The two incidents, one at Lake View Estate in Nakuru East, and the other in Olenguruone, Kuresoi South, shocked residents who woke up to the news of the killings.
In the Lake View incident, a 33-year-old woman identified as Martha Waithera was found dead in her bed hours after her husband left the house under the cover of darkness.
In Olenguruone, a 19-year-old Form Four student identified as Edmond Kipng'etich was killed by a man who caught him in the act with his wife.
Grief engulfed Lake View estate as Waithera's body was moved from her house by the police under the watch of Nakuru East Deputy County Commissioner Eric Wanyonyi.
"Waithera and her two sons aged seven and four months were locked in the house from outside. We found her body, which had visible injuries, lying on her blood-soaked bed," said Wanyonyi.
Nakuru East Sub County Police Commander Phanton Analo said a suspect who was living with the deceased was on the run and police were hot in pursuit as he was a prime suspect in the killing.
"The deceased was partially naked. The house belonged to Waithera but she lived with her lover who is said to have vanished very early in the morning after allegedly committing the offence," said Analo.
The police boss said that Waithera's body was taken to Nakuru Municipal Mortuary pending investigations.
He urged women to be cautious and wary about men they welcome to their houses.
Waithera's cousin, Margaret Nyambura, who lives in the same compound, said they were alerted by the dead woman's son who was heard calling for help to open the door at around 8am.
"The minor woke up late and went to her mother's bedroom to find out why she had not woken him up early for school. He found his mother dead and his younger brother in a separate bed," said Nyambura.
Nyambura revealed that the suspect had been seen entering Waithera's house, though no commotion had been heard.
"My late cousin was a businesswoman while her lover, who would spend a few days here and leave, used to buy cereals in Narok and supply them to customers in Nakuru. They appeared to be a happy couple and this came as a shock," said Nyambura.
In the second incident, Kipng'etich, a student at Kapsimbeiywo Secondary School, was allegedly caught pants down with another man's wife in Saptet village.
Kuresoi Divisional Criminal Investigations Officer (DCIO) Peter Obonyo said the man had returned to his house on Sunday at midnight when he confronted the young man and a scuffle, which attracted the attention of their neighbours, ensud.
"The teenager was with a 35-year-old woman when he was confronted by the man. He stabbed Kipng'etich several times using a sword. The boy was rescued by members of the public as the suspect fled," said Obonyo.
Obonyo added that the residents rushed the Kipng'etich to Olenguruone Sub County Hospital, where doctors rated his injuries as critical and recommended a referral.
"The young man was rushed to Nakuru Level Five Hospital for specialised treatment. He, however, succumbed to the injuries on Monday morning. The suspect is still at large and we are pursuing him," said Obonyo.