Turkana, where beauty lies in the bead-holder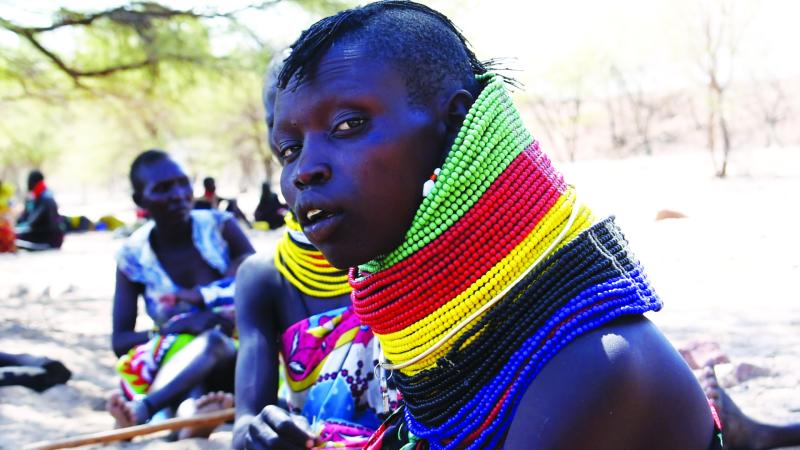 To a visitor in the vast Turkana County, the sight of women with strands of beads around their necks, wrists and ankles may not mean much.
But to the community, the beads have a great significance, symbolising their heritage.
The main reason women wear the beaded ornaments is to make them attractive to men and fetch handsome dowry.
"Men look for a woman with decorative beads. It is very difficult for those without to get married," says Margret Asinyen of Tiya in Loima Sub-county.
This is why Eporon Lokadelio, will do anything ensure his two daughters get enough of the beads.
"I have invested a lot in my daughters. I have sold about 200 goats and sheep since my daughters started growing up. I exchanged the livestock with beads, and I believe they will attract a worthwhile suitor," he says.
According to the Turkan customs, the only time a woman should remove the beads is when she is seriously sick and in need of medical attention.
But just what do these beads signify?
A woman is allowed to remove all other beads when her husband dies, but remains with a strip of white one on her neck to notify people she is a widow.
"The woman will stay for some weeks before some rituals are performed, after which she is given new beads to wear," says Nabei.
According to the Turkana culture, a woman who removes beads and escapes her from the village to the urban area is looked down upon.
"When a woman starts refusing to take livestock for grazing, the community will always consider her as having been lured by men from urban areas of Lodwar town, Kakuma, Lokichar, Lokori, among other towns," says Lokope Lokadio, a resident of Nakwamekwi.
Some suitors in the community would not mind paying up to 50 camels or cows and between 2,000 to 3,000 goats and sheep for a beautiful woman with good character and beads.
Charles Ekaran, a polygamist, says men pay dowry depending on how beautiful the bride is decorated with the beads.
"The pride price has dropped due to drought. when there was plenty of pasture and water, suitors would pay as much as 200 camels or cows as dowry," he says.