Inside Nandi's forgotten shrines where Kalenjin elders meet to pray once a year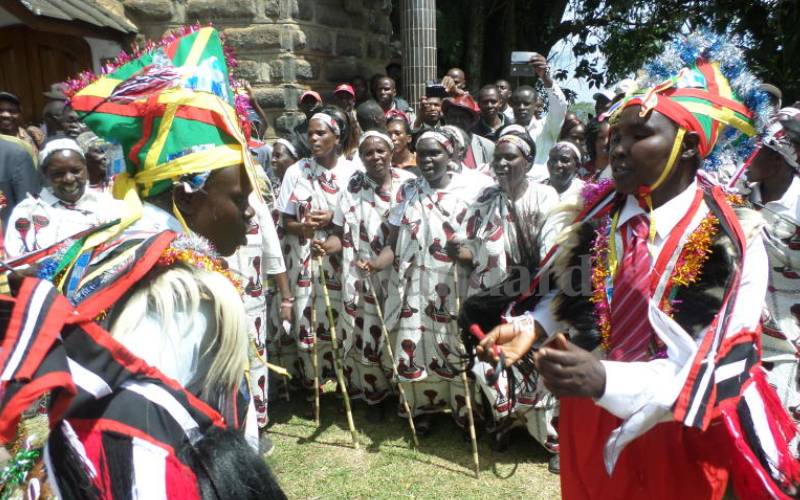 Beneath two huge baobab trees at the heart of Nandi Hills town lies Nandi Orgoiyot Koitalel arap Samoei's mausoleum. The site has a mix of modernity and Nandi traditional heritage that has propelled the region as a tourism circuit.
A biblical Noah's ark-shaped mausoleum, constructed by the government more than a decade ago at a cost of Sh58 million, stands beside Koitalel's Talai clan shrine (Kapkoros), complete with a neat traditional hut (got) and granary (chogeet), a classic of an indigenous Nandi community homestead.
Among the Nandi, diverse territorial divisions or administrative units of the community such as Kapchepkendi, Kamelilo, Kaptalam, Kaptumois, Kaboch, Koligei, Kapyanga and Kapsile had independent shrines and none could intrude into another's shrine.
"The only time when the units, that totalled 12, come and hold prayers in one shrine was during an expedition such as a military incursion, during ceremonies such as circumcision, prayers for abundance of food, livestock as well as when casting out misfortunes such as diseases and famine," said Mr Kipchoge arap Chomu, a Nandi community researcher.
Forested areas
But the entry of Christianity and decimation of forested areas for economic purposes has seen shrines become inactive as members pray in church, which is also termed Kapkoros, among the wider Kalenjin community.
The new development has left Koitalel's shrine in Nandi Hills currently the most active, with community leaders locally and in the Diaspora thronging the region, mainly for annual prayers.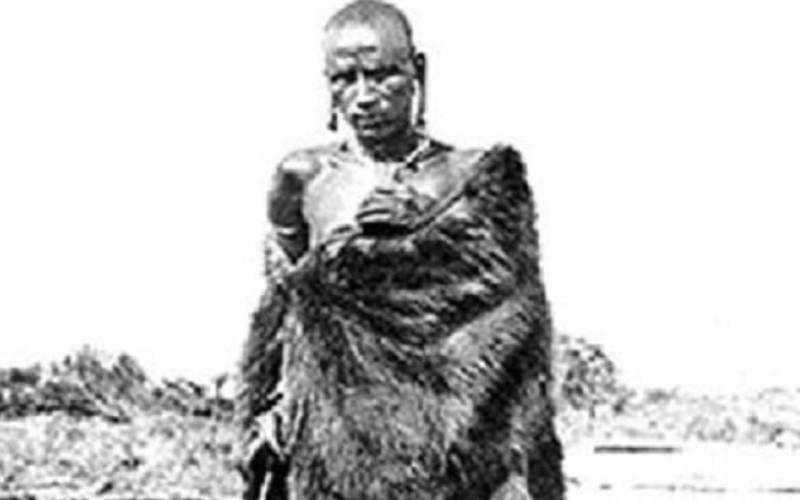 The traditional prayers fall on every October 19, the eve of the National Heroes Day (Mashujaa) marked on October 20. "The shrine and the mausoleum are currently under the Museums of Kenya. The shrine has a total of 2,500 parts, which have teaching lessons in line with Nandi heritage," said Mr Francis Talam, the curator.
He adds: "Outside the hut is a shrine where during sittings (kokwo), elders use significant trees during prayers that are often secretive but are based on unity and streamlining issues affecting the larger community."
Talam said an altar is made using a palm tree (sosiot), olive (emtit), an indigenous tree locally known as tebeswet, and a herbal climber (chemnyalildet).
He says the hut is divided into two – Koima (near the fireplace) and Njoor (separate enclosure also housing sheep and goats) representing the father and mother. "Head faces East and legs West during sleeping and at prayer time," adds Talam.
The hut is made in such a way that its door is low to ensure those entering bow as a show of respect.
"The fireplace has three stones – signifying a complete family unit of father, mother, and child. There is also a place for the father to sit near the kingpost at the centre of the hut. The kingpost is a pillar that holds the hut firm. Part of it protrudes at the rooftop and is always clipped in case the father passes on," says Talam.
According to David Sulo, a fourth-generation Koitalel descendant, the shrine in Nandi Hills has been made public and is now a symbol representing the heritage of the community.
"The shrine also contains the community artifacts that can now be showcased to the young and future generations. They include Koitalel Samoei's leadership batons, ceremonial gear including Sambut, ornaments among others," said Sulo.
Sulo added that elders converge to the site every year to commemorate Nandi legend Koitalel's death, who has also been immortalised as a National Freedom Hero. This year's memorial will mark 116 years since his murder by colonial imperialists during a peace meeting.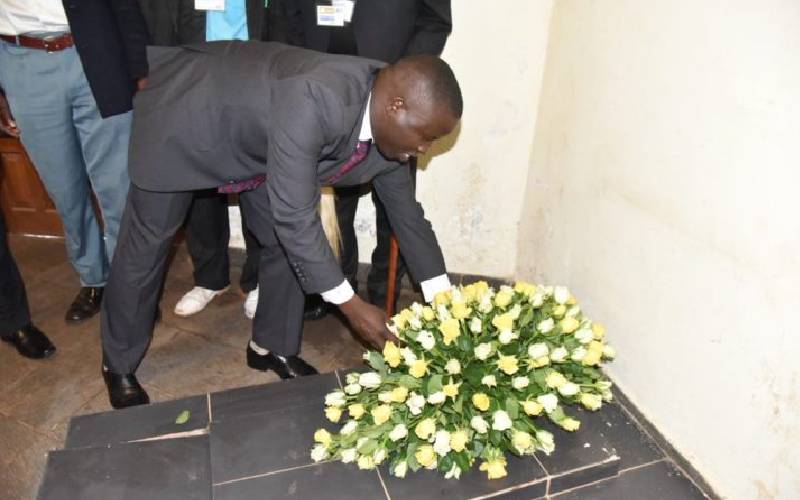 The shrine site is where the Orgoiyot is believed to have been shot at 11am on October 19, 1905, after leading 11 years of Nandi resistance to the British colonial invasion of Nandi land. Nandi elder Abraham Cheruiyot Randich recalls that in the formative years, shrine meetings were held overnight.
"Elders identified a respected man from the oldest age-set – one with a stable family, abundance in food and livestock. A young lad and a virgin girl would also be identified and a white sheep with ceremonial herb (Sinendet) wrapped around its neck, all signifying purity," says Randich.
Accessing the shrine is through eastwards and early in the morning, notes Randich.
Mr Stephen Sugut of Koitalel Samoei Nandi Foundation says elders who often meet in Nandi Hills deliberate on issues affecting the community among them land injustices, issues like marketing for produce such as milk, tea, maize, sugarcane, upgrade of roads and schools.
"The main intention of the shrine is to bring together leaders to cement the unity and stability of the community," he says.
In Nandi Hills, the shrine has turned the area into a tourism destination with visitors, students and organisations trooping to have a glimpse of the community's artifacts, foodstuff, and traditional regalia.
Apart from its attraction, the shrine also comes into focus whenever elections beckon as some leaders troop in to seek blessings.
Among leaders who have been blessed at the shrine are former President Mwai Kibaki and sitting President Uhuru Kenyatta.