Courageous wife goes at her husband's feet as he takes police station hostage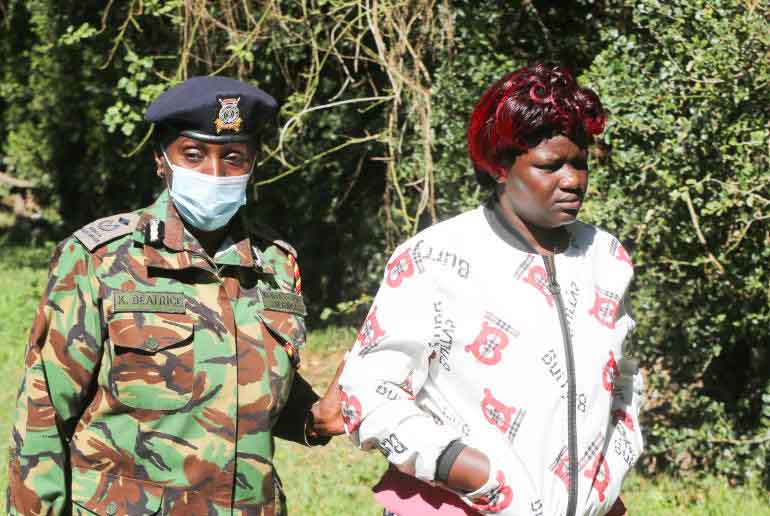 For nearly two hours, Police Constable Bernard Sivo held a police station hostage as his wife begged him to surrender his rifle not to harm himself, his family and colleagues.
The tension at Njoro Police Station came to a halt yesterday after Police Constable Bernard Sivo, 28, turned a gun on himself despite efforts by his colleagues and other relatives to calm him down.
Earlier, the officer, wielding the AK-47 rifle, had walked out of the hospital, leaving his girlfriend's body lying in a pool of blood at Njoro Sub-County Hospital, where he was being attended to.
According to his 29-year-old wife, Joyce Ndunge, Sivo returned home on Saturday at around 4 pm and spent the entire evening with their children before reporting for night duty at 11 pm. "He wore jeans and a civilian shirt, and on top, he wore his uniform. This got me concerned, and when I asked, he said he would explain later after reporting to work," said Ndunge.
It was not immediately established at what point he removed his uniform and remained in the civilian clothes.
The police officer is said to have headed to Njoro town, where he met his lover Mary Nyambura near her house. "Nyambura was closing her liquor store when Sivo assaulted her and stripped her naked. A guard at a nearby bank calmed him down as a neighbour whisked Nyambura away," said Paul Karanja, a resident.
Rift Valley Regional Police Commander Fredrick Ochieng' said Nyambura suffered a fractured leg and was taken to Njoro Sub County Hospital at midnight. "Sivo then reported on duty, armed himself with an AK47 rifle, before excusing himself. He headed back to the hospital and accessed the room where the medics were attending to Nyambura," said Ochieng'.
Ochieng' said Sivo started shooting at Nyambura, forcing the two medics and a security guard to scamper for safety.
"The hospital management called Njoro OCS at 12:23 am to report the incident. Nyambura was shot several times on her right arm and back. She died on the spot," said Ochieng'.
Detectives collected 15 spent cartridges at the scene. Convinced he had killed Nyambura, Sivo walked back to the police station and called his colleagues, warning them against leaving their houses.
"He called to say that he had killed the woman who was wrecking his marriage. I begged him not to harm himself and surrender his gun. I hid near the OCS's house when I spotted him enter the station," said Ndunge.
She narrated how her husband was shooting in the air for nearly two hours while calling their relatives. "He told his colleagues and bosses not to leave their houses. He then picked our daughter from our house, forcing me to come out of my hiding. He shot at me thinking I was an officer but missed," said Ndunge.
"After identifying myself, I walked up to him and clutched onto his legs. I begged him to put the gun down. He told me that he wouldn't shoot me because he needed me to take care of his children."
After more than an hour, Sivo ordered her to get their daughter back to the house and continued to roam around the station.
His colleagues who had strategically taken cover embarked on a plan to disarm him. The officer continued to make calls to his family and in-laws while still firing in the air.
At around 2:30 am, when Sivo realized his colleagues had closed in on him, he turned the gun on himself, saying he wasn't ready to go to prison. "He shot himself on the chin and the bullet exited through the forehead. His body and that of his girlfriend were moved to Egerton University morgue. The case is being investigated," said Ochieng'.
Ndunge described her husband of seven years, with whom they had a six-year-old daughter and a two-year-old son, as a respectful man who always sought forgiveness whenever he made a mistake.
"He had not taken alcohol yesterday. He was never violent towards me. I used to talk to Nyambura on the phone, and she told me they had parted ways," Ndunge said.
The Standard established that Sivo and Nyambura's relationship was an open secret despite the two having their spouses known to the public.
"They have been dating for the past one year. Nyambura had two children but had separated from her husband.
She wanted to end her relationship with Sivo, but he refused," said a relative who sought anonymity.
Karanja, a resident, revealed that the brawl near Nyambura's residence was not the first one.
"He started being violent around Nyambura two months ago. A few weeks ago, he threw a table at a reveller who was talking to Nyambura. His colleagues tried to talk to him over the violence, but he did not change," said Karanja.
Sivo was enlisted to the Administration Police in 2017 and integrated into Kenya Police in 2019. He had served at the station for one and a half years.
Timeline
11 pm -Sivo leaves his house with civilian clothes under his uniform
He heads towards Njoro town and assaults Nyambura
12am-Nyambura is received at Njoro Hospital
12:23 am -Hospital reports shooting incident
Nyambura is killed in the shooting
12:25 am -Sivo returns to Njoro Police Station
He orders his colleagues to scamper for safety
He picks his daughter from their house within the station
He shoots in the air as his wife begs him to surrender
2:30 am -He shoots himself
Sivo was enlisted in the police service in 2017.
He was deployed to Njoro Police Station in 2020.