Plant turning Eldoret town's sewage into clean water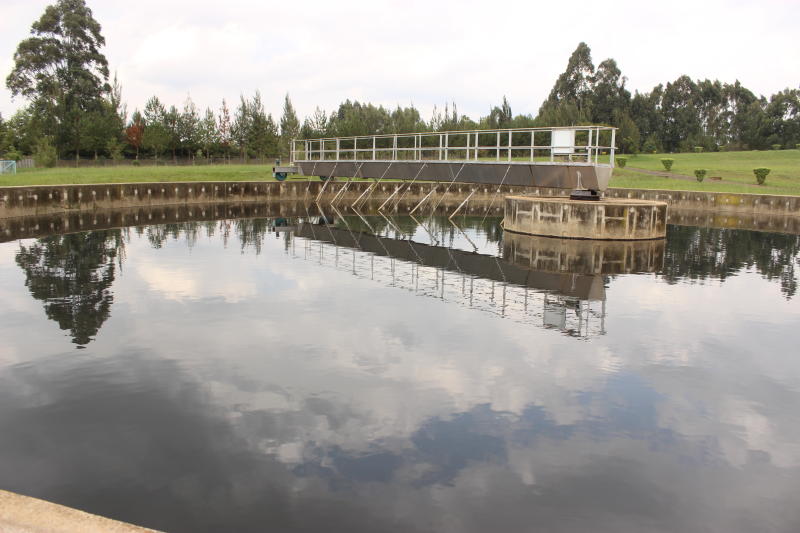 It takes 16 to 28 days to treat 8,000 cubic metres of sewage and discharge it as clean water.
The Eldoret Sewerage & Sewage Treatment Works recycles waste from 190-kilometre sewer lines and discharges the water into the Sosiani River.
The plant, managed by the Eldoret Water and Sanitation Company (Eldowas), sits on a 500-acre piece of land in Kipkenyo and uses German technology to recycle wastewater.
"The plant is the biggest biological sewage treatment outside Nairobi. Waste from all estates and the Eldoret Central Business District are treated here and discharged as pathogen-free water," says the chief technician Joseph Kipsang.
The process involves analysis of effluent and de-watering of solid waste, particularly human faecal matter, before sewage water is passed through three ponds where the effluent is purified.
The plant, established in 2005 in a deal between Kenya and Germany, uses an electronic system that relays information on leakages and power problems.
The wastewater quality is monitored from the inflow to the outflow in a meticulous process that involves public health management.
"The wastewater is passed through primary, secondary and a tertiary pond where it is treated and later discharged to the river after it attains conditions for disposal," explains Kipsang, who has been in charge of the treatment works for 23 years.
The primary pond is five metres deep and this is where desludging and analysis of the sludge that is present in the wastewater takes place. The process involves establishing the presence of heavy materials in the sewage, moving it to the drying bed.
Kipsang says water is then retained in the primary pond for seven days.
And before the wastewater is moved to the secondary pond, it is passed through a large tank with filters. They use bacteria to eliminate the stink in the sewage water.
The water is then piped to the sedimentation tank for solids to settle down.
"The sedimentation tank has a revolving bridge with a scrapper that makes a full rotation in one hour. It scraps solids that flow as sludge to the sludge drier. It also has algae which will photosynthesise carbon dioxide," says Kipsang.
At the secondary pond, the water is free of sludge, scum and gases. It is retained in the pond for four days to clear any organic waste remaining.
The water is then pumped into a tertiary pond for five days before proceeding to the aeration chamber, where the final treatment takes place.
"Living organisms such as worms and nematodes are eliminated. The presence of mudfish, birds that survive in freshwater bodies, and algae is an indication that the sewage water has been successfully treated," says Kipsang.
In the final aeration chamber, the PH, temperature, suspended solids and chemical oxygen are analysed before the clean water is discharged to the river.