Police arrest two and recover motor vehicle accessories in house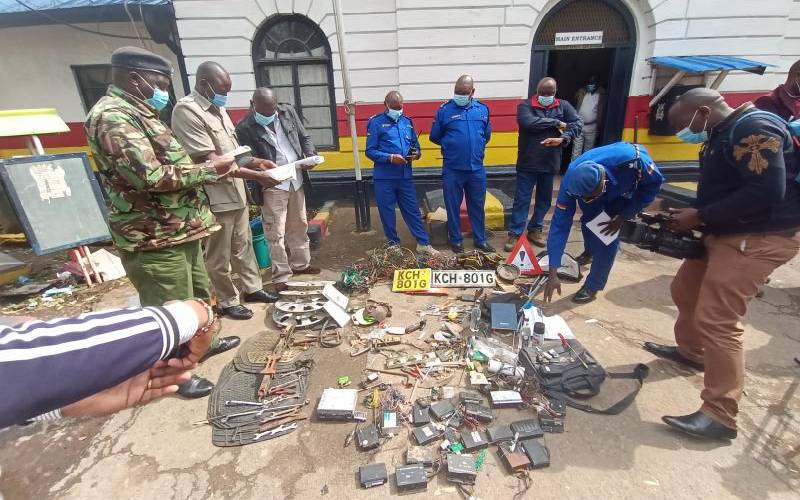 Police in Nakuru have arrested two suspects linked to the theft of vehicles.
According to the Nakuru East Sub-County Deputy Police Commander Phanton Analo, weeks of investigations unearthed an elaborate car theft syndicate, leading to the arrests.
The suspects led detectives to their residence in Tumsifu area in Lanet, where assorted motor vehicle accessories were recovered. "We got intelligence and managed to arrest two suspects. They are believed to be part of a notorious car theft syndicate," said Analo.
The police believe the suspects have been involved in at least 20 car robberies going by the accessories recovered.
"We recovered at least 20 tracking devices, which had been disabled and removed from stolen vehicles. This means they had stolen 20 vehicles and possibly more others that didn't have such devices," said Analo.
Five ignition keys, wheel caps, spanners, car mats, and cables were among the items recovered from the house rented by the two suspects.
The arrest gave hope to a Nakuru businessman who was robbed of his car two weeks ago after his car's registration number plates were recovered in the house.
Analo said another suspect was arrested days after the robbery and arraigned in court, but the vehicle is yet to be recovered.
"The two suspects are being held at Nakuru Central Police Station. They are being questioned to find out their possible accomplices and places they operate from," said Analo.
He called on motorists who may have recently lost their vehicles to visit the police station and provide details that may help investigations.
"We suspect the syndicate may have had a wide network. We need assistance from victims of car theft to identify the recovered car parts," said Analo.
While noting that patrols had been enhanced, Analo urged motorists to be cautious and always ensure their cars are parked at secure places.
"We are, however, glad that the robberies have not involved kidnappings. Most of the vehicles were stolen at parking lots," he said.
Also among persons of interest, Analo said, are rogue staff in companies offering car tracking services. "We will exhaust all avenues to find those unlawfully giving information on the location of target vehicles," he said.