Unending bloodletting in Kerio Valley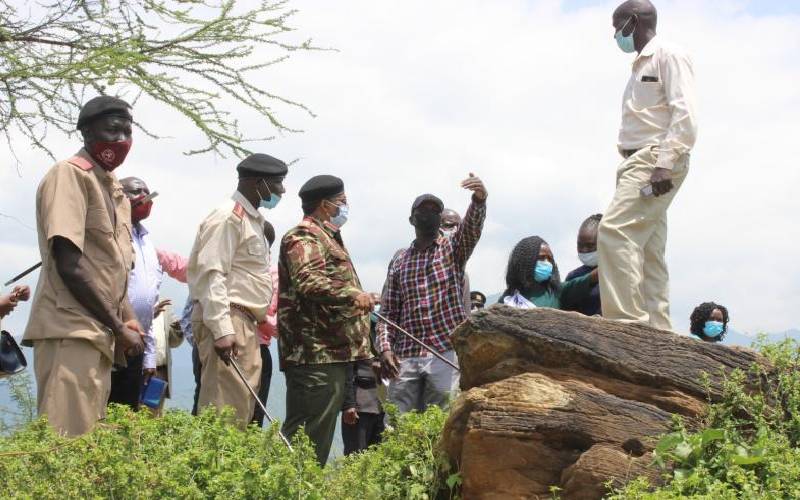 Kerio Valley is bleeding once again. The rivulets of blood are now thicker but flow more furiously than they did six years ago, when banditry-related attacks erupted in the area that cut across three North Rift counties. The government's move to increase the number of police stations in the region, withdraw police reservists believed to have been siding with their communities and deploy special security bosses are yet to bear fruit.
In the last one month, 17 people have been shot dead, more than 30 injured and hundreds of livestock stolen by bandits in brazen, broad daylight attacks.
Kerio Valley is known for its scenic geographical features such as the Kerio escarpments and the Tiaty Hills. The Valley, nicknamed Valley of death, cuts across Elgeyo Marakwet, Baringo and West Pokot counties and is dominated by the Marakwet and Pokot communities.
It is known to be one of the country's largest producers of mangoes, but the sweet venture has been ruined by the incessant banditry attacks.
Of the 17 killings since late last month are eight that happened within a week after Interior Cabinet Secretary Fred Matiang'i ordered enhanced security and that bandits surrender firearms and stolen livestock. The CS also held a meeting with security officers and leaders from the three counties, in a bid to end the attacks, but they have instead intensified.
On Tuesday five people were shot dead and four others sustained gunshot wounds in a banditry attack in the Valley. The fighting has degenerated into inter-communal fights.
A fierce gun battle between the bandits, suspected to be from Tiaty in Baringo County, and a group of herders from Marakwet East Sub-county ensued at around 12.30pm in Liter area in Kaben location near the border of three counties of Elgeyo Marakwet, Baringo and West Pokot.
Sources said over 150 bandits suspected to be from Tiaty, crossed the border and invaded villages to steal cattle in Kaben, Marakwet East, sparking exchange of fire with herders.
One man was shot on Saturday last week, and another on Thursday, days after the CS' tour of Kerio Valley. A gun battle ensued at 11am as herders from Marakwet East and another group from Tiaty clashed at a grazing field near Kerio River – the border of the Elgeyo Marakwet and Baringo.
Before last week's visit, nine people from the three counties had been shot dead and more than 150 livestock stolen. "Calm has been restored and officers on the ground are still combing the bushes so that we get the correct number of deaths and injuries. No livestock were stolen during the clash," Elgeyo Marakwet County Commander Patrick Lumumba said.
Mr Lumumba said police intervened to restore calm. He said the police had been put on high alert to forestall retaliatory attacks. Photos of angry locals mutilating and burning the bodies of the five youth shot dead during the Tuesday attack made rounds on social media, sparking fury.
A peace deal was signed in July 2019, but fresh banditry attacks erupted late last month, erasing the two years of tranquillity.
Earlier in July, leaders from the region went back to the drawing board, embarking on a fresh peace-building mission as banditry attacks in the Kerio Valley belt intensified.
The leaders were West Pokot Governor John Lonyangapuo, Elgeyo Marakwet Deputy Governor Wisley Rotich, MPs Peter Lochakapong (Sigor), Kangogo Bowen (Marakwet East), Samuel Moroto (Kapenguria) and Mark Lomunokol (Kacheliba). They, and several other stakeholders, have been attending the peace meetings.
At least 500 National Police Reservists in the three counties were disarmed and relieved of their duties in May 2019. They have, however, never been reinstated, despite the escalating attacks.
Yesterday, Rift Valley Regional Coordinator George Natembeya said the police reservists were not sacked.
Mr Natembeya said they were instead retrained, reorganised and placed in camps under one commander, like police officers, after they displayed bias while discharging their duties. "None of the bandits has been arrested, but most of them have died during attacks in the area," Natembeya said. He said it was impossible to carry out forceful disarmament in Kerio Valley because Kenya is a signatory to international treaties that prohibit use of force.
Natembeya said sharing of photos of youth killed would spark anger. "The area is calm because it is patrolled by adequate additional security personnel," he said.
During his meeting in Kerio Valley, Matiang'i ordered deployment of a special team to be placed in Dira, on the border of Elgeyo Marakwet and Baringo.
"We will assign a DCC whose responsibility will be coordination of the three counties because we know the expansiveness of the Rift Valley region," Matiang'i said.
The state had deployed another special DCC, identified as James Chacha, and placed him in Tot, Marakwet East in 2018. He was later withdrawn under unclear circumstances.
Matiang'i gave local chiefs an ultimatum. "Names of the criminals are known. I have given them (chiefs) seven days to surrender names to the police, or we go for them," the CS said.
"The IG of Police has agreed to immediately rework on deployment with a view of having adequate numbers in the right places."
The committee of elders from the Marakwet and Pokot communities that negotiated the 2019 peace deal, which was signed in Chesegon market and became known as Chesegon peace accord, say the attacks have negated gains enjoyed since 2019.
Wilson Kirop, the chairman of Chesegon border peace committee, who represented the Marakwet community in the 2019 peace deal, said he was shocked by the new wave of attacks and cattle theft.
"Social media is fuelling hate and this has made it difficult for peace efforts to continue," Kirop says.
Peace committee chairman from West Pokot, George Ywali said tension had been building up for the last three weeks after the killing of a bandit from Tiaty, only identified as Samuel, allegedly by security forces.
Elgeyo Marakwet Chief officer for Agriculture Edwin Seronei said the Valley produces 50,000 tonnes of mangoes, which were supplied to industries in Nairobi and Thika.
The Kerio Valley Development Authority (KVDA) established a Sh70 million mango processing plant during the two-year period when peace was restored.
A 1,000-acre Tot-Kolowa irrigation scheme which was established in 2015 to stop youth in the area from engaging in cattle rustling has stalled since 2016 when banditry attacks broke out after nearly 15 years of peace.
Between 2016 and 2019, when peace was restored, at least 120 deaths had been reported in weekly attacks in the valley.