2,000 families get Eid Al-Adha donations from Turkish embassy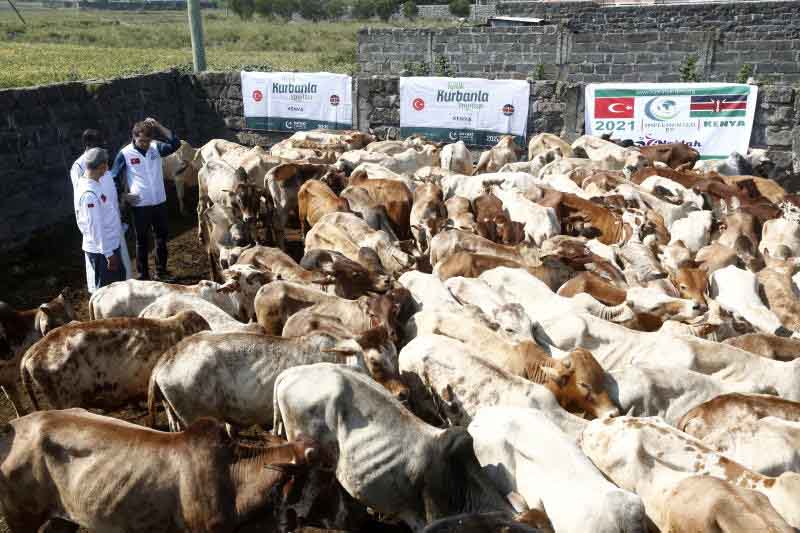 Over 2,000 Muslim families drawn from across Nakuru County yesterday received food donations from the Turkish government through its Ambassador to Kenya Ahmet Cemil.
The donations which included over 100 head of cattle were slaughtered at the Barnabas community slaughterhouse in Nakuru East to mark Eid Al-Adha, an Islam holiday.
Delivering the donations on behalf of the Ambassador, Mr Mucteba Tayyip said that this was a gesture of generosity from the Turkish people who joined hands in procuring the animals.
"This is a day to share and celebrate with the less fortunate. The Turkish Embassy facilitated delivery of the animals which will be distributed to 2,000 families in Nakuru," said Tayyip.
The main prayers were held at Shabab Mosque in Nakuru West before selected persons headed to Barnabas where they slaughtered the animals in strict adherence to Islam procedures. While receiving the animals, former Nakuru Mayor Mohammed Surraw thanked the Turkish Muslims for their kindness and the support received from the government.
Surraw noted that this was the second time the Muslims were marking Eid Al-Adha under new world order brought about by the ravaging Covid-19 pandemic.