Nakuru cop on the run after shooting lover colleague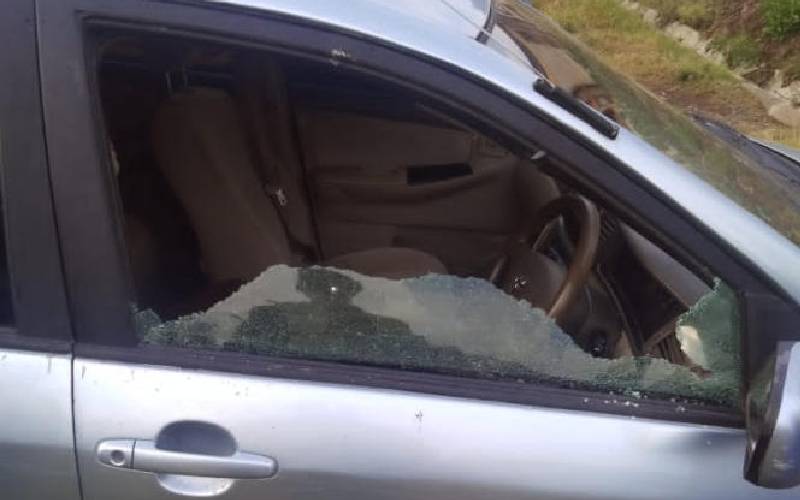 A love triangle involving three cops may have led to the gruesome murder of constable John Ogweno, Nakuru County Deputy Police Commander Joseph Tonui has said.
Ogweno was attached to Nakuru Central Police Station. Prior to his death, he was assigned duties at the Crimes Desk. He is said to have been with Corporal Caroline Kangogo of the same station on Sunday night.
Nakuru County Deputy Police Commander Joseph Tonui said Kangogo was a prime suspect in the murder of Ogweno. Ogweno was found dead in his car on Monday morning.
"We have launched a manhunt for Corporal Kangogo. She has gone missing and her phones are switched off," said Mr Tonui, adding: "The incident happened at or about 2.30am and was reported by another officer at 7am. The body was found in his car, with blood oozing from the nose," said Tonui.
The car, registration number KBV 735U, was parked outside their residence at Kasarani Police Line in Nakuru East.
Nakuru County Criminal Investigations Officer Anthony Sunguti said Kangogo vanished with Ogweno's pistol.
"Caroline Kangogo is the prime suspect in the murder and has fled with the deceased's firearm, a Ceska pistol serial number 94676, loaded with 15 rounds of ammunition," another officer only identified as Nyagah said.
Tonui said the deceased had a bullet wound on his head and his car was partly vandalised. "The driver's window screen was broken and the engine was still running," Tonui said.
"One empty cartridge of 9mm was recovered at the scene. The stone used to smash the car window and an iron bar were also recovered," he said.
Though The Standard established that Kangogo was married to another police officer senior to her, Tonui said she and Ogweno were reportedly lovers.
A senior police officer who sought anonymity told The Standard Ogweno was at the suspect's house prior to his death.
"Another male police officer who reportedly had a relationship with her went to Kangogo's house late in the night and found the two there. To avoid a clash, he decided to leave, only for him to learn of the shooting this morning," said the officer.
Officers living at the Kasarani Police Line said they did not hear of the shooting at the parking lot, which is a few metres from their houses.
"She must have shot him at very close range. The shooter first broke the driver's window before shooting him. He might have started the car to pursue the other male officer or escape from Kangogo," said the officer.
The incident comes in the backdrop of Interior Cabinet Secretary Fred Matiang'i's proposal to have laws barring senior police officers from engaging in romantic relations with their juniors drafted. This followed an upsurge of homicides involving couples in the National Police Service.
Officers have told The Standard that though this should be a personal choice, the rising cases were indeed alarming.
"Not everyone has the strength to cope up with a heartbreak, especially with a colleague. But it is always good to walk away. The behaviour of this one officer now justifies the proposed law," said an officer who has been in the service for 27 years.
Another officer regretted that due to poor time management skills, some officers stayed away from their families and as a result, ended up having extra-marital affairs with their colleagues. "Whether one or both partners are in the service, that does not justify infidelity."
The officer added that when job schedules start affecting one's family life, officers can disclose such facts to their seniors to avert depression and broken marriages.