Senator Poghisio condemns Pokot-Marakwet bandit attacks that left three dead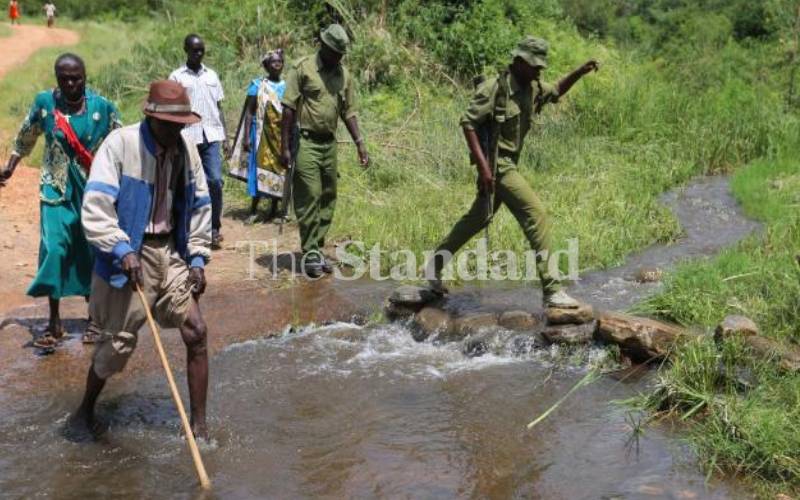 West Pokot Senator Samuel Poghisio has condemned bandit attacks at Chesogon that have so far left three people dead and scores injured.
The Senate majority leader said the bandits who attacked Monday night were from the neighbouring Elgeyo Marakwet county.
He urged security personnel in the region to move swiftly and quell the tension as well as investigate.
Poghisio said his office is working with the police to protect residents.
Guns went silent for two years and Kerio Valley, a region rocked by banditry attacks since 2016, started beaming with activity, with traditional markets opening up and agriculture thriving.
Maize, millet, sorghum and cassava greened the area, which had earned the infamous 'Valley of Death' name following attacks that resulted in more than 150 deaths between 2016 and 2019.
Banditry attacks are, however, again eroding the peace efforts achieved in July 2019 in the volatile Kerio Valley.
The Kerio Valley stretches across three counties of Elgeyo Marakwet, West Pokot and Baringo and is home to two dominant, warring communities – the Marakwet and Pokot.
The July 2019 peace accord signed in Chesegon, a common open-air market that brought traders from the two warring communities together, ended four years of bloodletting.
But in the last 10 days, several cows and goats have been stolen and three people, two from Elgeyo Marakwet County and one from West Pokot County were shot dead.
Attempts to mop up illegal firearms have failed, giving bandits the room to steal and kill at will.
Eight days ago, tens of cows and goats were stolen by bandits suspected to be Tiaty in Baringo County. Twelve cows were yet to be recovered by today.
Local peace committees set to sustain the hard-fought peace between the two communities are a worried lot following the fresh attacks.
One person from West Pokot was shot dead on Tuesday in Chesegon along the border with Elgeyo Marakwet, just hours before a man killed last week in Kowow village, Marakwet East sub-county, was laid to rest.
Wilson Kirop, the chairman of Chesogon border peace committee, who represented the Marakwet community in the 2019 peace deal, said he is shocked by the wave of attacks and cattle theft.
"Peace committees from the two communities were scheduled to meet today but the killings on both sides have stalled efforts to restore peace," Kirop told The Standard on the phone.
The peace committee chairman said tension was high along the border.
He said 14 cows from the Marakwet community were stolen three days ago and efforts to recover them have been futile.
Kirop further said that an unknown number of livestock belonging to Pokot herders had also been stolen and efforts to recover them were ongoing when the attacks escalated.