Beyond the call of duty: Kericho nurse who won hearts of many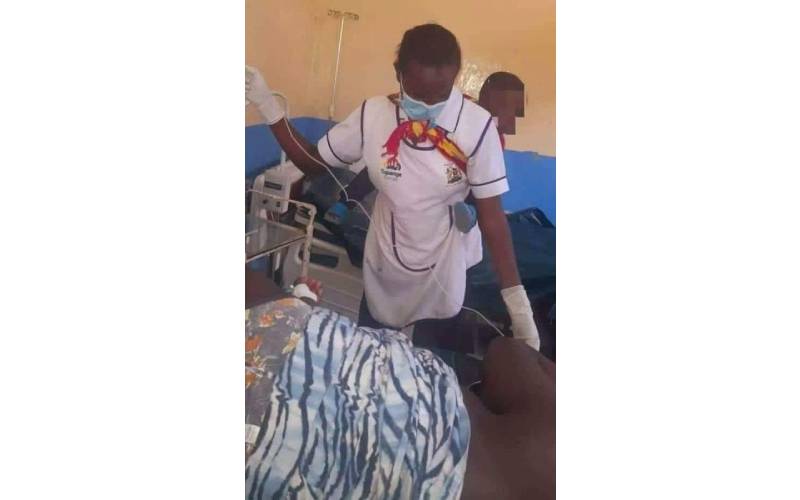 A nurse at Londiani Sub-County Hospital who was photographed attending to a patient with a baby strapped on her back has been catapulted to national fame.
When we caught up with 29-year-old Velma Chepkoech, who works on contract and doesn't even own a smartphone, she said her action was not a publicity stunt.
The Kenyatta University 2015 nursing graduate pointed out that the baby she was photographed carrying on her back belonged to an expectant woman who was rushed to the maternity ward to deliver her third-born child.
"The woman was brought to the hospital by her husband on June 15 after she went into labour," Chepkoech explained.
She added; "While I sent the husband to fill and file medical records for his wife's admission, he left their one-and-a-half-year-old baby boy behind."
Chepkoech, from 'United' area in Kipkelion East constituency, added that as the woman's labour pains progressed, the mother lost concentration, leaving her second born to start crawling around.
"I asked another woman to assist in holding the baby until the father came back but after a few minutes she handed him back to me," Chepkoech said.
When the father took a long time to return, the maternal instinct in Chepkoech took over. She explains that with the mother in labour and no one around to mind her son, he got attracted to the coloured bins containing highly infectious waste and began crawling towards them.
The situation left Chepkoech with no option but to pick him up and strap him on her back.
"My colleague whom I work with at the maternity who could help with the baby was busy with another emergency. I decided to strap the toddler on my back to protect him from touching the waste in the highly infectious bins at the maternity ward," she said.
All this while, the nurse who works on a contract was scheduled to attend the monthly prenatal meeting.
"After delaying to attend the meeting for almost an hour, the Kipkelion Reproductive Health Coordinator came to the ward where she found me preparing to conduct delivery with a baby strapped on my back and took a photo," said Chepkoech.
The 29-year-old nurse added, "As a matter of fact I was not amused by the picture."
Nonetheless, Chepkoech's photo found its way to social media, winning the reluctant heroine praise from far and wide.
"It took me a while to see the photo because I don't even have a smartphone. I own a mulika mwizi," she said.
For Chepkoech, what is important is that she assisted her patient to deliver a healthy baby boy weighing 3.9kg and also kept her other child safe.
"Carrying the baby on my back was not a big deal. What worried me the most was for my boss to find the baby playing with the bins containing highly infectious waste. I could have lost my job. It's good that they found the baby strapped on my back instead of crawling around in the maternity ward," she said.
Chepkoech, who started her nursing career by being a volunteer at Kapseger dispensary before landing a contract to work at Londiani Sub-County Hospital in 2018, said she aims to pursue a master's degree in nursing.
But how to raise the tuition fee could prove to be a challenge for the second born in a family of eight. She is also a single mother of a two-and-a-half-year-old boy.
The young woman who initially wanted to be an engineer after scoring A in KCSE was admitted to KU to study nursing. She says she has fallen in love with the profession and would like to specialise in maternal health.
Governor Paul Chepkwony, who hosted her in his office yesterday, described Chepkoech as an embodiment of heroism, professionalism, and empathy - virtues at the heart of the nursing career.