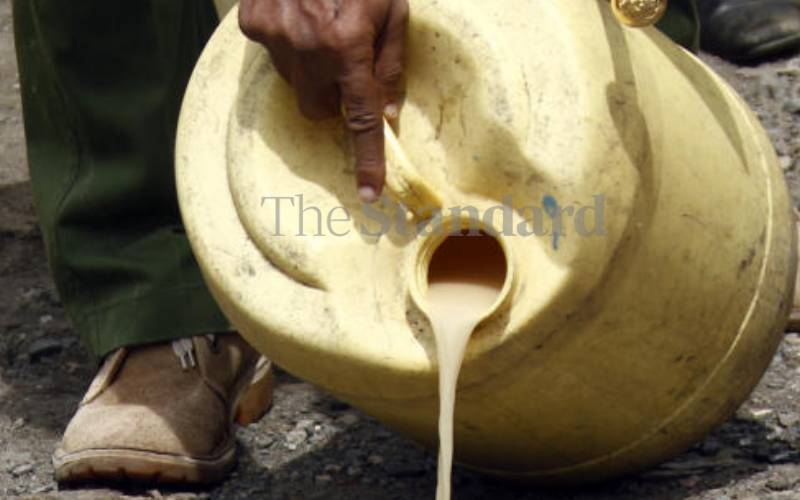 Business at Kapkei trading centre in Uasin Gishu County came to a standstill on Saturday after a group of women protested the increased number of drinking dens in the area.
The women, drawn from at least three villages, combed and shut down bars, drinking dens and liquor stores.
They blamed the establishments for rising alcoholism, the death of four young men early this year. The protestors claimed that illicit brews are to blame for dwindling births.
A message echoed by Kapkei Chief William Kipyego who revealed that is no child under the age of five in one of the villages adjacent to the trading centre.
"An entire village in Kapkei had no child under the age of five because men are no longer performing their marital duties. We have reports of deaths attributed to alcoholism. Some deceased persons plunged into floodwaters after drinking sprees, while another hanged himself while drunk," said Kipyego.
The protestors said they were forced to take action after earlier pleas to the authorities for intervention failed.
"We have only two shops and eight bars and liquor outlets. We have recently buried a 20-year-old man who died after excessive drinking. Some alcoholic drinks are illegal, and we suspect they have been imported from neighboring countries," said one of the protestors Margareta Kemboi.
Another protester, Pamela Koech, vowed that local women will ensure the drinking dens in the trading centre remain shut. "It is sad that we have very few children in our ECDE schools because our men are unable to sire."
Ann Kemboi said the area risks generational effects of alcohol dependence.
"Men from other areas flock to Kapkei because the alcohol sold here is cheaper. We have witnessed cases of theft because the youth who have stopped working hard want money to buy alcohol," said Kemboi.
Christopher Kigen, a retired teacher who was among 100 elderly men who joined the protest in solidarity with the women, said residents are considering banning the sale of alcohol like in Kaptuli, a small town located barely 15 kilometres away.
"We are encouraging our people to do business, but we want them to sell foods such as soup or tea. It is even more painful because some people are selling poisonous drinks in the name of alcohol," said Kigen.