Alarm as 250 cows killed after feeding on suspected poisonous weed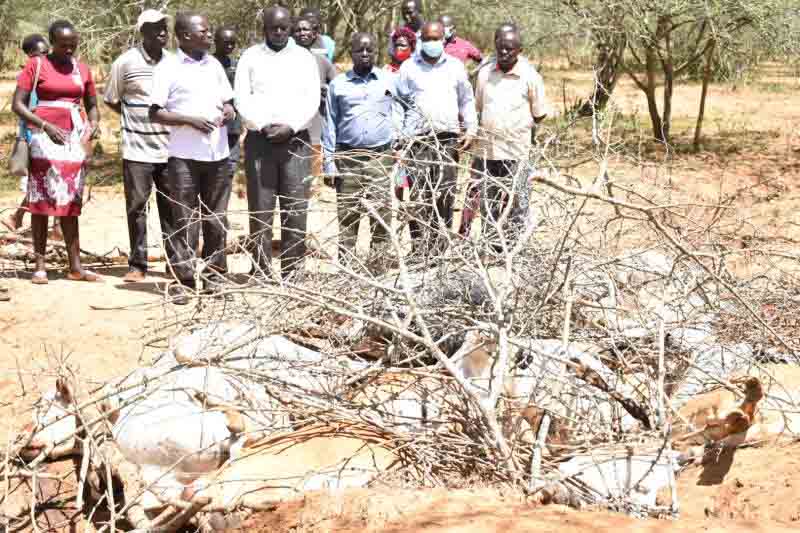 Livestock farmers in Kapchok Ward, West Pokot County are counting losses after more than 250 cows died in unclear circumstances.
Over the last two weeks, farmers have been losing cows, but on Tuesday at least 94 died in a day.
The county's livestock department visited the area to investigate the cause of the deaths.
Kapchok Location Chief Philip Lomukuny said the affected areas were Alakas, Ngotut, Kupen, where, in a span of two weeks, more than 250 cows have died.
He said livestock farmers had resorted to migrating their cows to neighbouring Uganda to avert more losses.
Symptoms exhibited
County Veterinary Services Director Samuel Chelimo said the affected cows exhibited symptoms such as oozing blood and mucus, erect ears, convulsion and swelling of intestines.
After visiting Lokwakua village, West Pokot County Executive Committee member in charge of Agriculture, Livestock and Pastoral Economy Geoffrey Lipale said more than 20 livestock farmers had been affected.
Mr Lipale said specimens had been extracted and dispatched to Kabete National Laboratory for testing and that they were awaiting results to ascertain the cause of the livestock's deaths.
"We suspect the cows could have consumed a poisonous weed, which grows along the river," he said.
He added that the weed sprouts during the rainy season and is poisonous to animals and humans.
"The weed is spread across the county. We will sensitise farmers to be on the lookout for the weed so that their livestock do not feed on it," said the CEC.
Further, residents have been cautioned against consuming meat or any products from dead animals.
One of the affected farmers, Autok Lomeringura, is devastated after losing 34 cows, 17 of which were calves.