Nakuru County impose laws ahead of city status elevation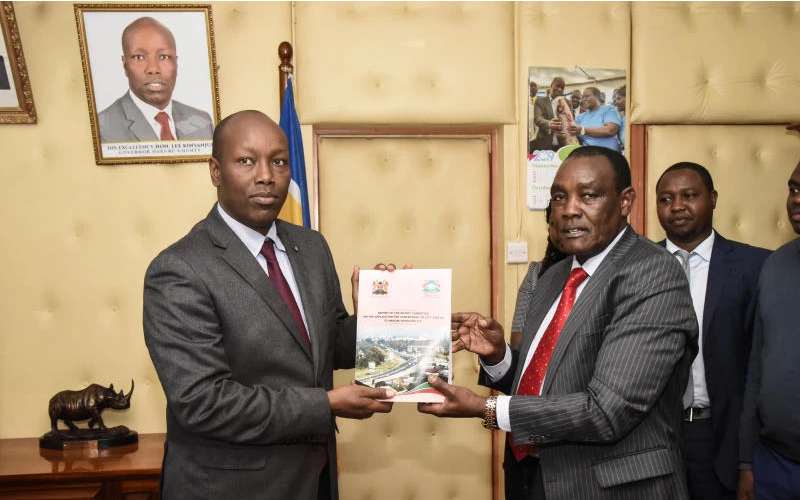 Since 2019, Nakuru Governor Lee Kinyanjui has been steadily walking the county through the journey of being home to Kenya's fourth city.
Elevation of the lakeside town to city status is currently at an advanced stage in the Senate after which President Uhuru Kenyatta will approve it. He has already expressed his support for the process.
In a report submitted to the Senate, the county assembly stated that Nakuru town was ripe for city status in terms of infrastructural development funded through the county budget and donor funds.
Kinyanjui's administration is currently finalising on critical infrastructures such as matatu terminus, markets, fire and disaster response centres, among others.
Also notable is the recently increased collaboration between the executive and the assembly to pass strategic laws and entering into agreements aimed at aiding the running of the upcoming city.
"Running a city with efficient service delivery requires resources. We shall maximise revenue collection and seal loopholes in our revenue streams. We collect 40 per cent of our potential with an annual average of Sh2 billion, which can be increased to Sh4 billion," said Kinyanjui.
Once given the city charter, the city board shall be required to put in place measures to raise its revenue to promote and undertake infrastructural development and services within the city.
Two weeks ago, Kinyanjui signed into law the Nakuru County Revenue Authority Bill among other laws recently passed by Members of County Assembly.
The county became the second after Embu to pass such legislation, which provides a legal framework for the establishment of the semi-autonomous revenue collection body similar to the Kenya Revenue Authority (KRA).
"Own source revenue collection in counties across the country always drops during the electioneering period due to lack of focus. With KRA, their revenue doesn't change significantly. With our county revenue authority, there will be steady revenue collection," said Kinyanjui.
The county collected Sh2.2 billion in 2017/2018, which shot to Sh2.8 billion in 2018/2019 and then dropped to Sh2.4 billion in 2019/2020 financial year and slightly fell short of Sh2 billion last year due to Covid-19 tax reliefs granted to businesses.
In the 2021/2022 fiscal strategy paper which is under public participation, the county targets to collect Sh2 billion local revenue and Sh1.4 billion in facility improvement fee.
To seal the loopholes through which the county government has been losing revenue, Kinyanjui has also signed into law the Tea Cess Bill that will ensure tea factories in the county remit the dues.
The governor said the Tea Cess and Revenue Authority Bills will go a long way in boosting the county's revenue.
OTHER BILLS
Last month, Kinyanjui also assented to three Bills aimed at restoring Nakuru's lost glory as of the cleanest town in East Africa.
They were the Nakuru County Climate Change Bill, Nakuru County Water and Sanitation Services Bill and Nakuru County Waste Management Bill.
"These Acts create legal frameworks to ensure we responsibly guard our environment. They also set the stage for public-private partnerships, access to funds for climate change mitigation, effective waste management, and sustainable water and sanitation practices," said Kinyanjui.
The Waste Management Law proposes punitive measures against persons engaging in poor waste disposal practices, such as discharging waste into a watercourse or a public sewer line outside the set standards.
"Upon conviction, such person shall be liable to a fine, not less than Sh500,000 and not more than Sh3 million. Alternatively, they shall serve a jail term of not less than one year and not more than three years," the Act reads.
The Climate Change Bill seeks to put in place a framework and mechanisms for mobilisation and facilitation of county government, communities and stakeholders ineffective response to climate change.
Water and Sanitation Services Bill seeks to protect Nakuru residents against being exposed to the consumption of unsafe water.