Two suspects arrested in murder of 30-year-old Kericho woman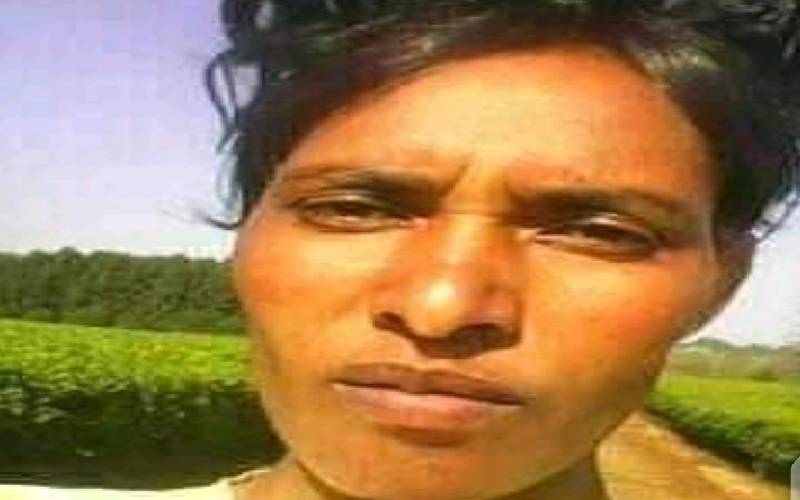 Police in Kericho are holding two people suspects in the murder of a 30-year-old woman, who was gang-raped, killed and her body buried in a makeshift grave.
Kericho County police boss Silas Gichunge said the suspects were arrested after preliminary investigations indicated that they participated in the killing and subsequent burial of James Finlay's Tea Company employee Emmy Chemutai (pictured).
Before her body was discovered on Friday in tea bushes at Kapsongoi Tea Estate, Chemutai was reported missing on February 18.
"We are looking for the deceased's boyfriend who is on the run. We believe that alongside, the two suspects, they gang-raped the woman before burying her body at Kapsongoi Tea Estate," he said.
Speaking during the exhumation exercise, Chemutai's uncle Samuel Tonui said her legs were tied at the ankle with a sisal rape indicating that she could have been tortured before being killed.
"Her body had also been wrapped in a bedsheet," he said.
The deceased brother Festus Kipsang said though they were devastated by the tragic news, it marked the end of sleepless nights for the family.
He described her sister's suspected killers as "devils'.
"I really loved my sister but the devils decided to take her away from us," he said.
Kipsang added that to them her sister lived by herself and they were therefore not aware that she was dating any man.
"We had never seen or heard about a man in her life. To us, my sister was a single woman, therefore the suspect who is said to have been living with her is a stranger to us. We can't even pick him from a crowd," he said.
Kipsang added that up to her death, the deceased had not expressed any fear for her life.
Cleansing ritual
He described the deceased as a quiet and dependable family member who did not spare her money to assist those less fortunate than her.
"She has invested in several agricultural and other projects at home," he said.
After the body of the deceased was exhumed from the makeshift grave, the family conducted a cleansing ritual before planting a banana sucker in the grave.
"According to Kipsigis traditions, a grave cannot be left open once a body has been exhumed a cleansing ritual has to be conducted before the banana sucker is planted lest another misfortune befall the family," said Tonui.
James Finlay Human Resource Director Daniel Kirui said they were fully cooperating with the relevant government agencies investigating the murder at the multi-national tea firm.
"We are deeply saddened by the killing of our colleague Emmy Chemutai under unclear circumstances. We will be providing updates as they are released to us," he said.
Until her demise, the late Chemutai had worked for the company for over 11 years.
At the time of her demise, she was a tea leaf sorter in one of our plucking teams at Kapsongoi Tea Estate.