Police torch bhang valued at more than Sh81 million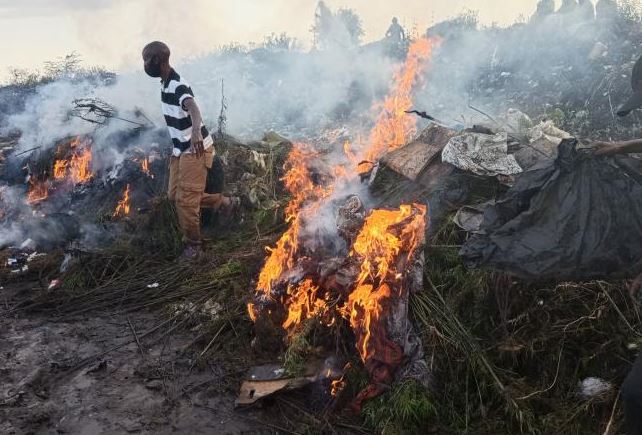 Police in Naivasha have torched marijuana worth Sh81 million after a court ordered that the drugs be destroyed.
Nearly 3,000 stems of marijuana went up in smoke at the Naivasha dumpsite on Thursday morning.
The torching follows raids on Marijuana growing and trafficking at the expansive Kedong ranch in Mai Mahiu last weekend.
During the highly guarded exercise, members of the public were kept at bay as the drugs went up in flames.
The drug was recovered last week in Kedong ranch in Mai Mahiu area following a sting operation by security officers.
During the operation, fourteen suspects who included one woman were arrested and have since been arraigned in court.
Naivasha Chief Magistrate Kennedy Bidali issued an order to burn the bhang while denying the suspects bond following a request by the prosecution.
According to Naivasha sub-county Commissioner Mutua Kisilu who supervised the exercise, they were seeking more suspects in relation to the incident.
"We have managed to burn bhang worth over Sh81m that was recovered by our officers last week," he said.
He expressed his concern that the illegal trade could have been going on without the knowledge of area residents and leaders.
"We believe that there is a major cartel involved in this trade and we shall not rest until we arrest and charge them in court," he said.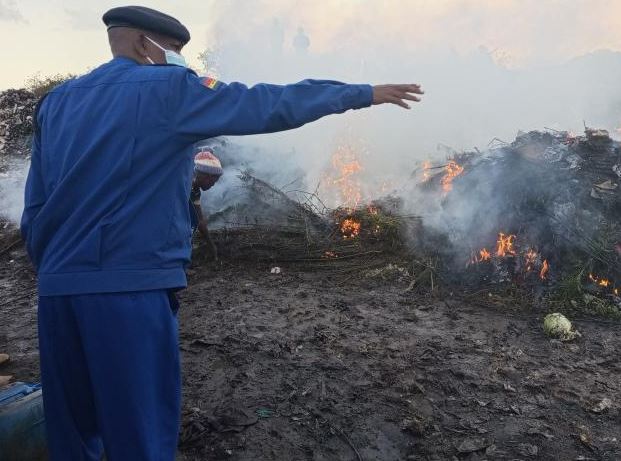 Kisilu added that plans were underway for an aerial survey over the vast ranch that runs between Mai Mahiu and Narok road to establish if there were other plantations.
The officer said that the bhang had been planted in a one-acre plantation with nearby caves used to dry it.
The commissioner at the same time expressed concern over an increase in schools unrest noting that use of bhang could be the main cause.
"We have information that some of the kiosks around schools are selling cakes that are laced with drugs and we have collected samples and sent them to government chemist for tests," he said.
Kisilu challenged members of the public to volunteer information over the use of bhang among youths which was on the rise mainly around estates.