Natembeya: MPs, MCAs on our radar over Kapedo attacks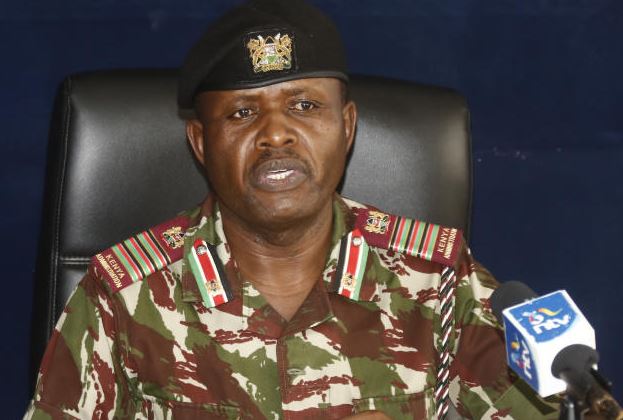 Rift Valley Regional Commissioner George Natembeya has blamed collusion between politicians and cattle rustlers in the North Rift for the killing of two senior officers in less than a week.
Mr Natembeya said they were investigating a number of MPs, MCAs and professionals accused of colluding with criminal gangs that have perpetuated deadly attacks in the region in the name of cattle rustling.
He spoke at a press conference yesterday to shed light on the ongoing security operation in Kapedo, Turkana County.
In the press briefing, Natembeya named an MCA as among leaders summoned by the Directorate of Criminal Investigations (DCI) officers at the regional headquarters over claims of aiding in procurement of guns and ammunition from Uganda and conducting meetings where the recent attacks on security personnel were planned.
"We have a list of politicians and civil servants who own the massive flocks in Kapedo and Tiaty but employ locals to herd them. We have established that some are not paid in cash but provided with guns and bullets to aid them in raiding their neighbours," he said.
The regional commissioner said the politicians had been personally contacted to present themselves before the DCI.
"Some of them have already recorded statements. The remaining ones should take my word seriously," said Natembeya.
The administrator said details have emerged linking the well-connected public figures to purchase of guns and bullets from Uganda, which they give to their communities.
"They have been sneaking guns into the country from Uganda whenever they buy livestock. Some livestock are operated on and the guns and bullets stashed in them and retrieved on arrival. The dealers are spread in Baringo, Turkana and Elgeyo Marakwet," he said.
In the ongoing operation in which civilians and police officers have been killed, Natembeya said the police have destroyed three villages, which the bandits have been using as a hideout.
He said in the intensified operation, the police have recovered items belonging to the slain General Service Unit (GSU) Director of Operations, Emadau Temakol, in one of the villages. Temakol was killed in an ambush at Ameyan bridge on Sunday.