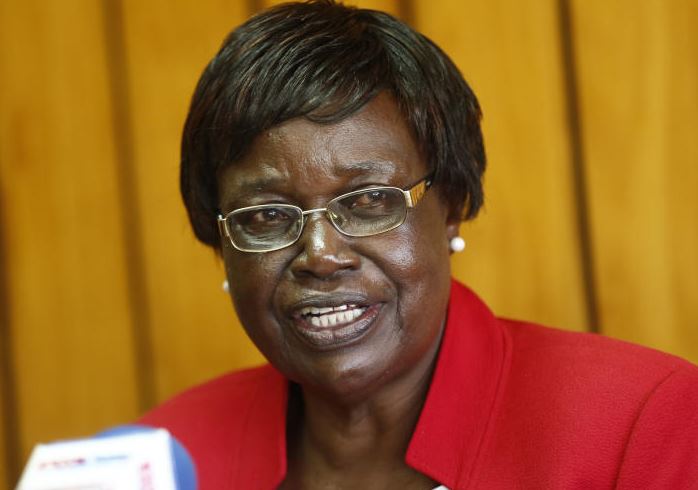 Protests have ensued at Egerton University's Njoro Campus in Nakuru, as lecturers barricade the Vice Chancellor's Prof Rose Mwonya's office.
The dons are demanding Mwonya's removal from office.
At the time of going to press, Standard Digital had established that the lecturers used wooden planks and stones to block Mwonya (pictured) from accessing her office, chanting "Mwonya must go" slogans, that echoed through the institution.
The lecturers who signed a return-to-work formula recently claim they don't see any reason why the embattled VC should continue holding office.
Anti-riot police are already on ground to control the riots that could very well turn ugly.
The riots come just two days after the Employment and Labour Relations Court reinstated Prof Mwonya as the University Vice Chancellor.
Mwonya was sent on terminal leave by the University Council in November, but moved to court to obtain an order stopping her removal.
She however protested the move in court with Justice Hellen Wasilwa suspending it pending the hearing and determination of the case.
The judge ordered the matter certified urgent and heard inter partes on December 10, 2020.
"Pending the hearing of this application, the court is pleased to issue interim orders suspending the decision dated November 13, 2020 that purports to send ex parte applicant on leave with direction to hand over her role as vice chancellor to Prof Isaac Kibwage, in its entirety," ruled Justice Wasilwa.
Court also suspended a directive by the university asking Prof Mwonya to show cause, arguing it was issued without jurisdiction.
The institution then appointed Prof Isaac Kibwage as acting Vice-Chancellor effective November 20.
Prof Mwonya's tenure ends in 2021 when she retires.
It is not the first time Mwonya has faced removal from office.
Earlier January this year, Egerton University students demanded her immediate removal and action taken against the management, after they were fined Sh234 million for damages caused during the December 2018 strike.
The students demanded to know how the varsity's top management arrived at the figure, while calling for Mwonya's firing.
The damage occurred after students took to the street to demonstrate over zero fee balance policy before sitting examinations.