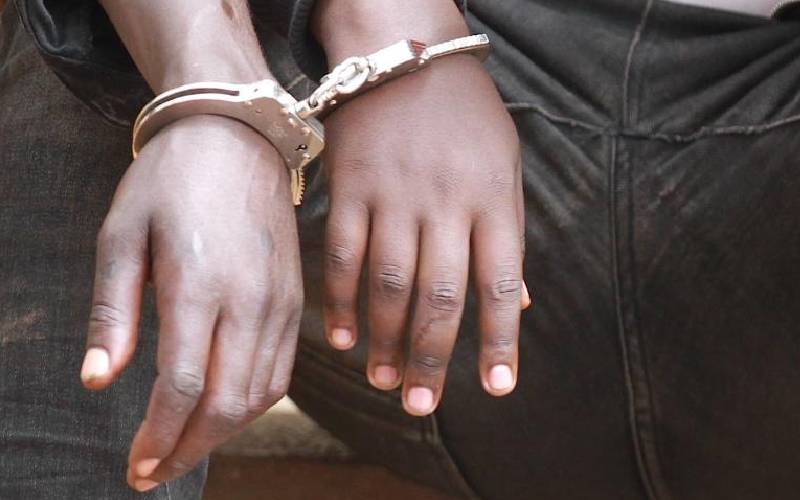 Tension remains high in a village in Uasin Gishu County after a police mission to arrest a suspect in an assault case turned deadly.
Two people were killed at Pambasuko village, Turbo constituency, on Friday night after neighbours attacked police officers who had gone to arrest a suspect believed to have assaulted a resident in July before fleeing.
The complainant, who accompanied the police in the arrest mission, was killed in the chaos that erupted as charged residents stormed the suspect's home.
Angry locals
Read More
Four residents and two police officers were also injured and more than four houses burnt in the 7.30pm melee.
Witnesses said angry villagers, armed with machetes and clubs stormed the home after they heard screams.
Yesterday, Eldoret West Sub-county Police Commander Edward Masibo said it all started on July 19 after the suspect reportedly assaulted the victim before fleeing the area.
Masibo said the suspect returned recently and the victim informed the police.
"The victim had sustained grievous harm, according to the P3 form he had obtained. He accompanied two police officers who had gone to arrest the suspect. Upon arrival at the suspect's home, a relative alerted neighbours that they had been attacked by robbers, and that's when they descended on the victim, cutting him using pangas," he explained.
Another person was killed when the officers responded to the attack. Masibo said angry locals burnt houses belonging to the suspect and his family to revenge the killing of the 38-year-old victim identified as Andrew Indeche.
"We are still pursuing crucial leads to arrest the suspects who killed the victim and attacked police officers. A woman who alerted neighbours and described our officers as robbers has gone missing, and we are looking for her," Masibo said.
The police officers sustained panga cuts in the chaos.
"They have been treated and discharged. Investigations into the incident are ongoing. We are soon bringing a number of suspects to book," he said.
Crude weapons
Indeche's brother Wanyama Pachiti said he was standing outside the suspect's house as the two police officers arrested him inside when rowdy villagers arrived.
Pachiti said his brother had been attacked by the suspect following a squabble in a local bar.
"The two police officers called for reinforcement because the crowd was charged and armed with crude weapons. More officers arrived when my brother was already dead. One of the police officers had shot one person from the suspect's family," he said.
Several people sustained injuries.