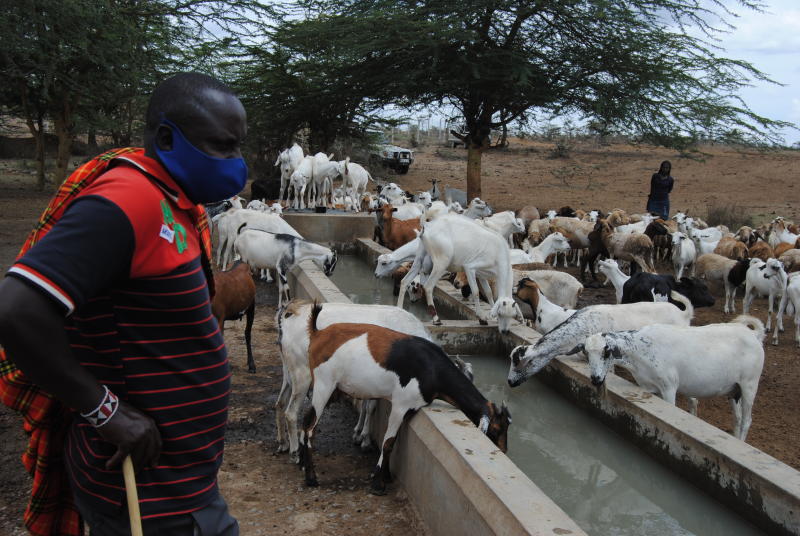 Families used to walk for more than 20km in search of water forcing children to miss school but nowadays they cover only 700 metres to get the commodity.
For Saruni Laputit, 46, taking livestock to the watering point meant walking for at least 20km in Mosiro, Narok East sub-County
This is now a thing of the past, thanks to water projects funded by the World Bank, targeting 14 arid and semi-arid counties.
Laputit now watches the livestock drink water from troughs, after the Olmunanda community dam was commissioned.
"This dam is a godsend. We have been suffering for many decades and had to drive our livestock to Siyiapei river which is 20km away. Things have changed and our livestock can drink water right here," he says.
Read More
The dam serves more than 1,000 households and waters over 3,000 livestock daily.
Emily Lekutit, 37, recounts that she used to wake up before sunrise to begin the search for water. "Before, women used to meet at 5am to begin the 10km walk to Siyiapei River. Nowadays I just walk for 700 metres to fetch water," she says.
The mother of five is happy that school-going children will no longer miss lessons because they went to search for water. "Water is crucial. Our children used to miss classes as they went in search of water for bathing and cooking. We are now happy," she says.
James Tendwa, the head of the World Bank-sponsored Regional Pastoralists Livelihoods Resilience Project says Sh7.7 billion water project was started in 2014 and is set to be complete by April 2021.
"So far we have done various projects on drought mitigation in the 14 arid counties and we are now at 85 per cent after completing 113 water projects. We hope that these flagship projects will be sustained for generations to come," Tendwa says.
He notes that community projects such as bee-keeping and pastoral field schools are also part of the initiative.
John Marindany, the Narok County agriculture executive says they will embark on capacity-building for the community on sustainability of the project.
"We are grateful to the World Bank and national government for this project that is a boost to our pastoralists and we promise to maintain it," he says.