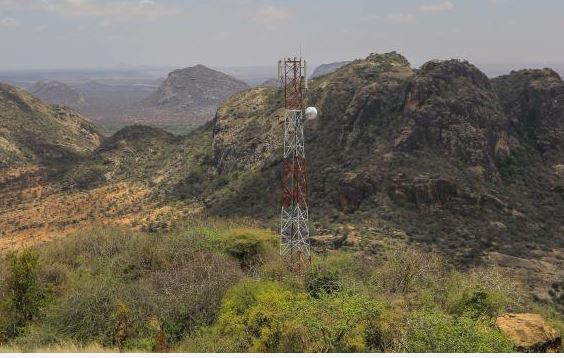 Residents of Ngurunit village in Samburu County will no longer have to walk for three kilometres whenever they want to make phone calls because of a weak signal.
A mast (pictured) erected by Safaricom in August has ended a communication problem the villagers have had for decades.
"It feels like light finally came home," says Alex Lepir, a Samburu elder.
He may not have all the resources in the world, and he is ageing under unfriendly heat, but the fact that he is now connected to the rest of the world is an incomparable achievement for him.
And it has been a long time coming. Ngurunit's voice had been muzzled for long.
Groups of women weave spiritedly, working to deliver an order of 540 bags by mid-October. They are draped in shukas, with dried reeds at their feet.
Monetary impact
They are among 289 members of the Basket Weavers Group. Before August, they often depended on one loyal customer from Maralal, whom they call Laura, to drive to their village once a while and place orders which were, oftentimes, not large enough to have a significant monetary impact.
So when the base station was set up two months ago, they pooled their resources and dashed to the nearest shopping centre — about ten kilometres away — to buy smartphones and airtime in order to talk to more people and get customers.
But there was no shop selling airtime. They were advised to deposit money into their mobile phone wallets to buy airtime. The process may not have been a familiar one, but they eventually got the hang of it.
Ngurunit is not a village of poor people. They have cash, but don't tend to deposit it in bank accounts. The area is under-resourced. They dig and try to tap water from the hills, but landslides frustrate their best efforts. The pipes burst open and get clogged with sand. Drought is a problem, and NGOs often pitch camp in the area to bail them out.
But now they have a mast, and they are starting to see the way to a better life. The journey to getting the mast started eight months ago, says Haron Cheruiyot, an engineer who works for Adrian Company Kenya. He led a delegation on the path to solving a community's problem.
Safaricom was approached and after feasibility studies, the best location was settled on: the top of Ngurunit Hill. The transmission mast serves more than 400 households. It runs on a generator for five hours and solar power for the other 19.
"The (fuel) tank capacity is 1,500 litres. The generator consumes an average of 2.7 litres of diesel an hour. It takes four months for the fuel to get finished," Cheruiyot says.
"Now our sons can browse the internet and also search for jobs," says Simon Lalampaa, a village administrator as he fiddles with his smartphone.
The phones have not replaced clubs, daggers hanging on their waists or guns on their shoulders, but the smartphones are nowadays a common sight.
When planning to sell their herds, men would select the animals and brace for a 40-kilometre journey through a hopeless wilderness to get to a market. Until the day they return, their families would not know what is going on or what they are doing.
"It has always been so unsafe, but it's changing now," says Moses Lelesiit, an officer at a local conservancy.
Roamed freely
The officers were brought to combat crime in the area and although the move was well-intentioned, it was a daunting task. Bandits roamed freely and would waylay herders headed for the market and steal their goats. There was no way to raise the alarm.
Now there is.
The officers get quick alerts. Aware that they are now easier to track down, the bandits have retreated.
Wild animals are also a common threat in this area, Lelesiit says. In search of water, they invade human settlements and confrontations can get ugly.
The residents of Ngurunit say they and their animals are susceptible to disease, and when they point where the nearest hospital is, one struggles to spot it across the vast landscape.
"Now one problem is solved. We would be happy if the government helped us access food and water," says one of the elders. "And proper sanitation," he adds, almost as an afterthought.