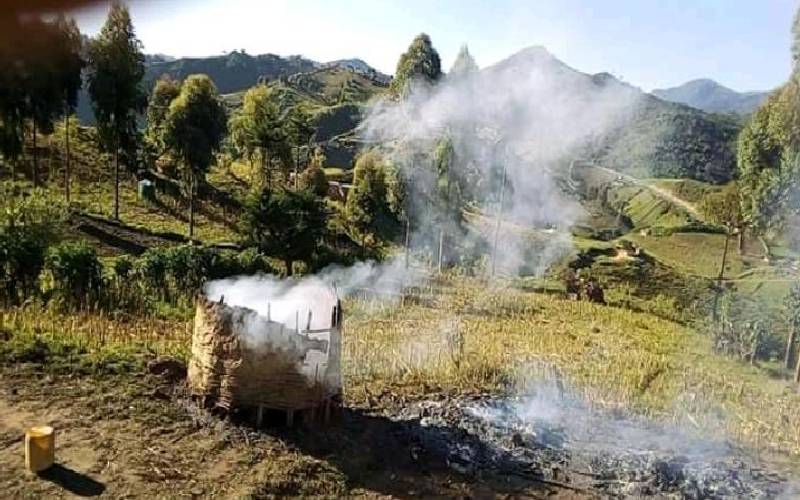 From the hilly Embobut area in Elgeyo Marakwet County, Richard Kipkore gazes in despair at the horizon.
His home was burnt down six months ago over a protracted land dispute.
Marakwet is mountainous, with picturesque escarpments and a valley.
Read More
But beneath this beauty lies deadly land clashes, which have not been resolved for over two decades.
Life has been agonising for Kipkore and many other residents of Maron village in Embobut location.
He hopes that a solution to the land rows will be found soon.
In March, armed youth from the neighbouring Koibirir location stormed the village. One man was shot dead and 50 houses were razed.
Life has never been the same since then for families.
With no roof over their heads, anguished locals turned to relatives for shelter and food since they could not return to the disputed land.
At least eight clans in Elgeyo Marakwet County have incessantly fought since 1999.
Records at the county lands office in Iten indicate that no one in Embobut location has a land title deed despite a land survey exercise starting in several areas of Marakwet East sub-County five years ago.
"Gangs armed with guns stormed the village one morning in March and the situation became a humanitarian crisis. More than 100 people are homeless and have become paupers," Kipkore says.
He says women, children and the elderly were forced to spend the night in the cold for fear of arson attacks. The culprits were never arrested.
The Maron and Koibirir clash was just a tip of the iceberg in a land crisis that has rocked Marakwet East, resulting in displacement of hundreds of residents.
"Each year, especially around planting season, we experience such attacks but this time, almost all clans have turned against one another....," Celina Chesir, an elderly resident of Embobut, says.
She claims that murderous gangs that have been engaging in cattle-rustling have turned their guns on members of rival clans
"Security agencies have been promising to arrest the suspects but they have never done so.
"Perhaps, the police also fear to confront the assailants who have been threatening elders who attempt to resolve the land disputes," she says.
Area chief Kanda Cheboi said 200 families fled Embobut following the attack.
Elgeyo Marakwet county commissioner Ahmed Omar said disagreements over land in the region have been going on for a long time.
"We are not talking about one clan fighting the other but several clans that launch attacks while the others retaliate.
"It is a vicious cycle and to make matters worse, land in the region is communally owned since it has not been adjudicated," Omar says.
Intensified patrols
He says the influx of guns and complicit chiefs and their assistants have complicated matters.
"We are facilitating elders to lead in arbitrating the matter, especially those not in the courts.
"But we shall firmly implement court decisions," he says.
He says the police have intensified patrols in the area and that eight youths have since been arrested and a manhunt is on for the other suspects.
However, chiefs serving the affected clans have denied complicity in the conflicts.
In one case where arsonists burnt a house in Kipkaner location in March, security agencies were provided with a list of five masterminds and 10 attackers, but none of them has been arrested.
Mon location chief Jacob Chebet says it is the responsibility of the police to arrest the suspects.
One man was shot dead in the March 26 attack after one of the suspects opened fire on a member of the gang thinking he was a police officer, according to the police.
Marakwet East sub-County police commander Vincent Kitili says the masterminds fled the area without a trace.