32-year-old with four wives says his 19 children are a blessing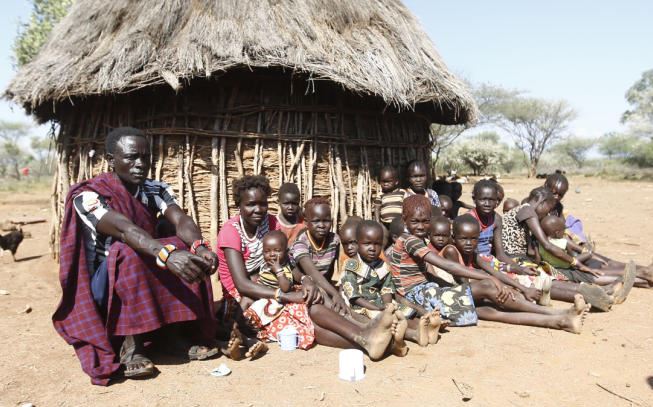 Kukat Kamartom (pictured), 32, yawns as he leans against the wall of his grass-thatched house at Riong'o village, Tiaty, Baringo County.
Kamartom, a daily wage earner, has just returned home from work in the scorching sun, and is tired, but his 19 children will not let him rest.
The children of four mothers are aged between five months and 18 years.
Kamartom's four wives live in the same homestead. One of them, who is pregnant, brings a jug of porridge, attracting the children who scramble for it, each wanting to have a share.
Each day, he struggles to earn a living so his family can eat — the children are not enrolled in school and wear tattered clothes as he is financially constrained.
Family planning is unheard of here and Kamartom insists that children are a blessing.
"Regardless of the struggle in raising my children, I love them. These are my blessings who will make me a proud father tomorrow," he said.
When asked about birth control, Kamartom gets a bit angry and says he has never embraced any method, and is not ready to.
He warns that any of the wives who takes up birth control will be going against their culture, and that may force them to part ways.
"Why should I limit the number of children I get, yet they are a blessing from God? All these girls will bring me cows when they get married, while the boys will take care of me and the entire community," says Kamartom, who is in the process of marrying a fifth wife.
Because he has many children, he is respected and is usually consulted when it comes to decisions affecting the community.
The wives usually seek the help of traditional birth attendants who help them deliver as the nearest hospital, Riongo Dispensary, does not have a maternity ward.
Kamartom's first wife, Chepokrela Kukat, has six children, the youngest is 10 months old.
She has no idea what family planning methods are, and plans to continue having children until she is no longer able to. "I do not have the power to control the number of children I have. That is my husband's decision," she says.
At Akwichatis village, Grace Rimo, a mother of five, says despite knowing about family planning methods, she has no control over the number of children she will get because of cultural constraints. Her eldest child is nine years old and the youngest is five months.
"Men are the sole decision-makers in a family and they do not take advice from women. Nobody has come to sensitise them on the importance of family planning. Those who do it without their husbands' consent are beaten or sent away," Rimo says.
She says Akwitchatis Health Centre, the only health facility in the area, does not offer ante- and post-natal care, hence many mothers seek services of traditional midwives.
"It is hard to even get vaccines for the babies at the hospital. We are requesting the county government to provide mobile clinics and medical camps so that both men and women in this area can be sensitised on child spacing and family planning," she adds.
Most Pokot men find it a taboo to speak about family planning.
"What is spacing for? If the baby is past five months old we start planning for another. We are polygamous and many children are a blessing.
"We cannot subscribe to foreign methods, which might bring complications to our women and reduce our population," says Paul Lotudo, an elder.
In Baringo, many health facilities are well stocked with contraceptives but no one uses them. At Riong'o Dispensary in Silale Ward, there are packets of expired condoms on the shelves. Other contraceptives, including injectables and implants, are also in stock.
Josphat Yatich, a volunteer nurse, says locals have not embraced family planning due to cultural beliefs and illiteracy. "No one picks the condoms. At times, only one or two people come to seek the services in a month," she says.
Find solutions
At Akwichatis Health Centre and Maron Dispensary, the situation is the same. Thomas Sirikwa, the head nurse, says despite the facility being well-stocked with contraceptives, the uptake is low.
But at Kambi Turkana in Baringo South sub-County, a group of young mothers, most of them school dropouts, have embraced use of contraceptives.
The young mothers, through the assistance of a community health worker, meet to discuss the challenges they face as young mothers, and try to find solutions.
In the programme, the teenage mothers are taught the importance of abstaining from sex and using protection.
Gideon Toromo, the Baringo County medical services chief officer, says there is a low uptake of family planning in Tiaty, Baringo North and parts of Marigat.
Models used to champion birth control in the county include 'Binti Shujaa' (teen mothers), male and disability champions. Each category of the champions is expected to train their peers in clusters on the importance of family planning.
Toromo says the county plans to achieve a target of 46 per cent family planning uptake, and has managed to reach out to at least 93 per cent of women and girls.
"Officials from the department of health together with various age sets are conducting community sensitisation on birth control," he said/.
The sensitisation targets women of reproductive age of between 15 and 49 years.
Toromo says the Covid-19 pandemic also affected uptake of contraceptives as a number of women stayed away from hospital for fear of contracting the virus.
Uptake of family planning by women in reproductive age in the county in 2019 was 37,454, a drop from 40,109 in 2018, according to county health records.
Eldama Ravine Sub-County recorded the highest uptake of family planning in 2019 at 9,787, followed by Mogotio with 7,138.
Baringo Central had 7,060, followed by Marigat at 6,553 and 5,259 in Baringo North. Tiaty East and East Pokot sub-counties recorded the lowest uptake of family planning at 640 and 1,014, respectively.
However, the uptake has gradually been on the rise since 2015.
Types of birth control methods in the county include FP injections, Intra-Uterine Contraceptive Devices (IUCD), implants and pills.
According to the report, FP injection and implants insertion are the most preferred methods of birth control. In 2019, at least 23,609 were placed on the injectable while 7,501 undertook implants insertion.
However, uptake of IUCD insertion across the county is low. In 2015, only 509 adapted the method, which recorded a gradual increase to 1,461 in 2019.
Head of reproductive and maternal health in the Ministry of Health, Stephen Kaliki, said mothers living on the streets are included in the family planning policy, as they fall under vulnerable groups.
He added that the uptake of family planning across the country has increased.