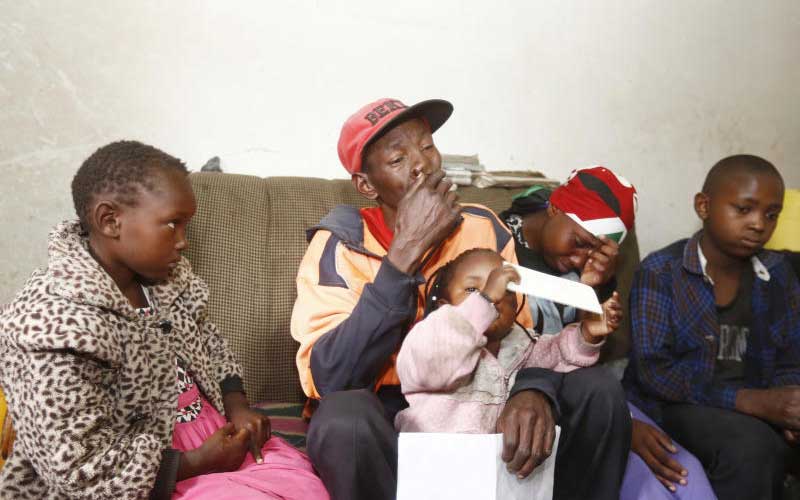 Shadrack Nderitu stares into space, lost in a mixture of emotions.
He is at his doorstep in Nakuru's Lakeview Estate, the home he shared with his wife Mary Wangui and their four children.
With the help of a recruitment agency, Wangui flew to Saudi Arabia in February to work as a house help. She had been making a living washing clothes in various Nakuru town estates.
"Our firstborn daughter Mary Wambui is currently in Standard Eight. My wife was concerned that we may not enroll her in secondary school next year without a stable income. So she took the risk," Nderitu says.
Read More
Wangui's untimely and suspicious death while working for a family in Hail City, Saudi Arabia, has shocked her family. Once again, it has put on the spot the plight of Kenyan women lured to the Middle East by the promise of better pay.
According to Saudi government documents seen by The Standard, Wangui died on April 11 after she allegedly committed suicide.
"The agency that got her the job informed me about her death on April 30. They said she hanged herself and even sent photos of the scene," Nderitu says.
"I don't believe my wife is dead. And in the event she is, I don't believe she killed herself. It could be a murder covered as suicide by her tormentors," he says.
Nderitu expected that her body would be flown back home for her family to give her a decent send-off.
"I was shocked when the agency approached me to sign documents that would allow them to have her buried in Saudi Arabia. I declined after their three visits. They have refused to bring her body home yet they were to cater for her return ticket if she were alive," he says.
The family of Alice Awuor, 30, finds itself in a similar fate. In June, it got word that Awuor had died. She had been in Jeddah City, Saudi Arabia, since January, working as a house girl. Like in Wangui's case, the agency that got her work has been taking her family round in circles over repatriation of her remains.
Her father John Tindo, who lives in Elburgon, Nakuru County, has been unsuccessfully pushing the Nairobi-based agency to have them fly his daughter's body back home.
"At times, they don't pick my calls. The worst was when they gave us a wrong address for their offices in Nairobi," Tindo says.
Prior to her death, Awuor had sent word to the agency and her family that she had not been paid and was being mistreated by her employer. She was seeking financial support from her friends to facilitate her return.
Tindo says his daughter had informed them that her life was in danger after she requested to be repatriated.
"After she told me about the threats, I informed the agency only for them to call me back two days later saying she had died," he says, breaking down while clinging to his daughter's portrait.
Nearly three months later, the family says it is yet to be informed what led to her death or whether plans to fly her body home are still underway.
Thousands of Kenyans continue to face similar challenges in the hands of their harsh employers in Saudi Arabia as the recruitment agencies that facilitated their travel continue to send more. The trade, now likened to human trafficking, earns recruiters a commission for each job a Kenyan takes up in Saudi Arabia and other Middle East countries.
Awuor's agent says her body has been released by the Saudi authorities, which were investigating her case and plans to have it brought home were underway.
"We call on the family to be patient with us," said a representative who only identified herself as Cecilia.
The Standard established that contrary to what they had informed her family, the company has no physical office in Nakuru.
"I'm currently in Lanet, but we can meet at Highway Suites. We currently don't have an office in town but I will be there by 3pm," a woman who identified herself as Ann told us.
She is the one who had delivered documents, including Wangui's death certificate, to Nderitu.
In a brief phone call thereafter, Ann rescheduled the meeting to last Tuesday, suggesting the Rift Valley Regional Headquarters, which houses immigration offices as the meeting point.
"Tell your sister to come with her passport and the other details will be discussed," said Ann.
But on Tuesday and Wednesday, her mobile phone was switched off.
It remains unknown whether Wangui's body has been interred abroad.