Camp in path of migrating wildebeest responds to public fury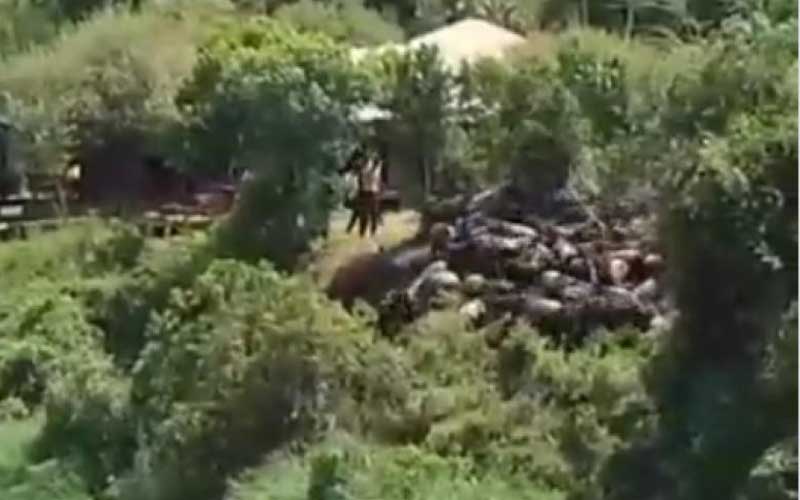 The camp at the centre of public furor after a viral video clip showed staff blocking wildebeest in the Masai Mara now claims it did this to protect its guests and employees from a life-threatening stampede.
"This is outrageous. Staff from a camp on the left as you look at this photo are forcing the wildebeest to turn around and go back into the river - and into the oncoming herd. I wonder how many died in this melee," the caption under the video that was posted by Anne Taylor on Facebook reads.
Terming the incident as unfortunate, one of the directors of Atua Enkop, which runs small and exclusive camps including the 12-tent camp Mara Ngeche at the centre of controversy, said it was an isolated event.
The director, who did not want to be named because he was not presenting the camp's official position, added that the staff's reaction was instinctive and aimed at preventing loss of lives at the facility.
He added that the camp has been in existence at its current location for more than a decade without encountering such a situation.
But this is not Mara Ngeche's first brush with controversy in recent times.
Just last month, it was banned from the reserve for a month for flouting park rules by allowing tourists to alight from vans to film the ongoing wildebeest migration.
In a letter dated August 10, Chief Park Administrator Christine Koshal singled out three tour companies - Sunworld Safaris, Mario Tours and Twiga Tours - for exhibiting unacceptable behaviour and mode of conduct on August 8 and August 9.
The letter was copied to Mara Ngeche, Olkinyei Tented Camp, Oldarpoi Camp and Nashulai Conservancy, which were hosting the visitors who were cited.
The Mara Ngeche director, however, said the two incidents are separate and should be treated as such.
"The guide in question noticed our guest sitting out on the roof of the tourist vehicle and promptly requested them to remain in the vehicle for their safety. The guest never stepped out of the vehicle. We are following up on the matter with the relevant authorities to clear our name," the source said.
After the wildebeest saga and ensuing public outrage, Tourism Cabinet Secretary Najib Balala directed the Narok County government to remove Mara Ngeche for gross violation of park rules.
CS Balala posted on Twitter and Facebook that he had spoken with Governor Samuel Tunai on the incident and was hopeful the camp would be removed.