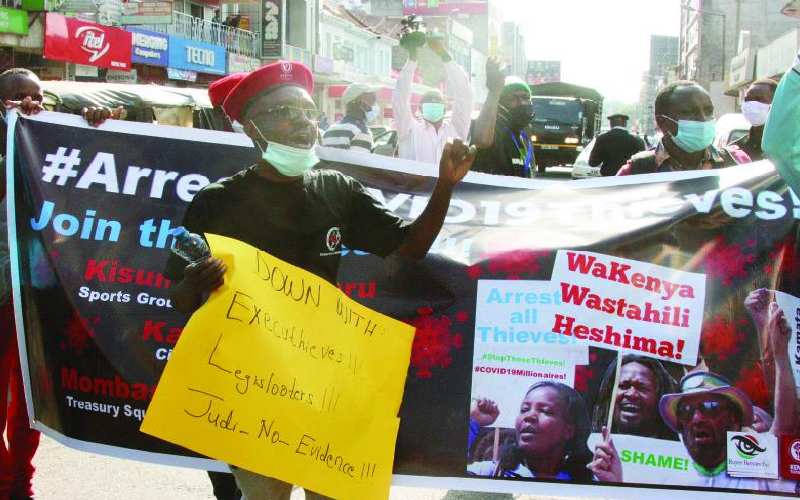 Several protestors in anti-corruption demonstrations against Covid-19 profiteers yesterday were met with teargas and arrests by police.
The protestors in Nakuru and Kisumu towns accused the Ministry of Health and other government institutions of disregarding calls by Kenyans to embrace accountability by making public how the funds were spent.
"We are outraged by the continuous lack of transparency and accountability in the Ministry of Health and other government agencies charged with managing public resources for the Covid-19 pandemic," said Fredrick Ojino, a protestor from Kisumu.
The protestors demanded that the names of companies, their beneficial owners and individuals awarded contracts for Covid-19 related commodities or services be published for the public to see.
Read More
They demanded that the Public Procurement Regulatory Authority publishes a market price index of Covid-19 drugs and commodities, required for management of the disease. Among those arrested in Nakuru were youth leaders Vincent Tanui, David Opingo and John Towet, who had earlier obtained a permit for a peaceful protest before it was revoked.
"Mr President, enough is enough. It is time for you to address the Covid-19 millionaires," and "Down with the legis-looters, exec-thieves, and Judi-no-evidence" were among the messages on their banners.
Attempts by police led by Nakuru East Sub-county Commander Phanton Analo to have the youths pulling a crowd with them to disperse, were futile.
At the county headquarters, their petition was received by Enforcement Officer Michael Wathika before the protests turned ugly at the regional offices where the police immediately dispersed and arrested two activists.
Led by Paul Masese, the Programmes Manager at Centre for Enhancing Democracy and Good Governance, the protestors demanded that the executive heads at national and county levels take responsibility.
Take responsibility
"We demand that governors and the president take personal responsibility for donor funds meant to fight Covid-19 that have been looted. We want to see people sacked and charged for this corruption," said Masese.
Donors among them USAID and Global Fund, major financiers of the country's healthcare sector, are among those who have threatened to pull out their funding.
"It is a shame the government has created Covid-19 profiteers when our health workers are dying of Covid-19 after using sub-standard protective gear corruptly procured," said Masese.
The demonstrators vowed to continue with the demonstrations every week until the government gives answers.
"This calls for civilian action which has begun today," he said.