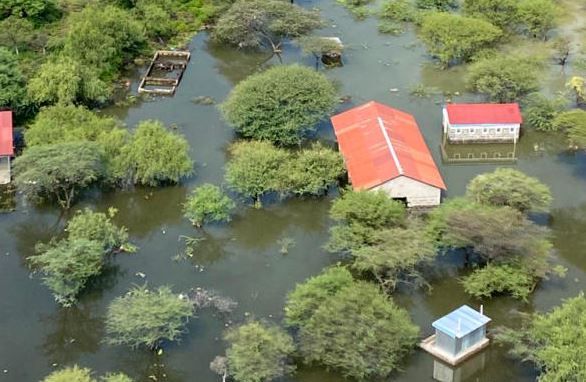 Parents and education stakeholders in Baringo have expressed concern over the Ministry of Education directive to have tutors start teaching in estates and villages.
The residents, mainly from Marigat in Baringo South, fear that teaching might not resume any time soon as ordered due to disruption caused by water from the swelling lakes Baringo and Bogoria.
The water from the two lakes has seen more than 200 families displaced and close to 10 schools submerged.
The Teachers Service Commission had ordered all teachers to undertake community based teaching without charging parents with effect from August 12 until further notice.
Curriculum support
Read More
The teachers were directed to register with curriculum support staff officers and sub-county directors in areas where they are currently staying.
Nicholas Bowen, a parent, said though parents support the programme, their children might not benefit from it.
"We are in the middle of a crisis, people were displaced by floods and have had a number of structures submerged. We are not sure whether the directive by the ministry will work for us," Bowen said.
Close to 10 schools, he said, have been affected and roads leading to various villages rendered impassable.
Among the schools affected are Ngambo primary and secondary, Kampi Samaki primary and secondary, Salabani Primary, Nosukuro Primary and Kailer Primary Sandai.
Others are Salabani secondary and primary, Sintaan Primary, Ilng'arua Primary, Longewan Primary, Sokotei Primary in Mukutani, Rugus Primary, Kiserian secondary and primary, among many others.
Vincent ole Kosek, another parent, appealed to the National Government, non-governmental organisations and well-wishers to intervene and assist the families.
"We need assistance; the issue of floods should be addressed first before the ministry starts planning about teaching in villages," he said.
Baringo County Kenya Union of Primary Education Teachers Branch Executive Secretary Christopher Kimosop said the spirit of community-based learning was good, but the preparation was hurriedly done.
Few learners, he noted, will benefit from the directive to have teaching in villages and estates. In Marigat, most villages are submerged and the locals have since fled their homes, he said.
The affected villages include Ngambo, Ilchamus , Kampi ya Samaki, Sintaan, Salabni, Longewan and Lukunyaki.
"The preparation in terms of groundwork was haphazardly done as no one established where the learners are and whether there are facilities where learning can take place," Kimosop said.
He said the government should find out who was where and doing what among teachers to enable it roll out the community-based learning.
Teachers who spoke on condition of anonymity said proper assessment of the area was needed before they can start teaching.
Baringo Governor Stanley Kiptis said together with the national government, they have been deliberating on mitigation efforts to cushion those affected.
"We agreed on provision of food and non-food items, temporary shelter, health services, psycho-social support and care for vulnerable members of the society," said Kiptis.
Teachers Service County Director James Nyakweba said they will trace the families to where they are staying and identify a field where learning can be conducted.
"We intend to identify some fields to assemble the learners," said Nyakweba.