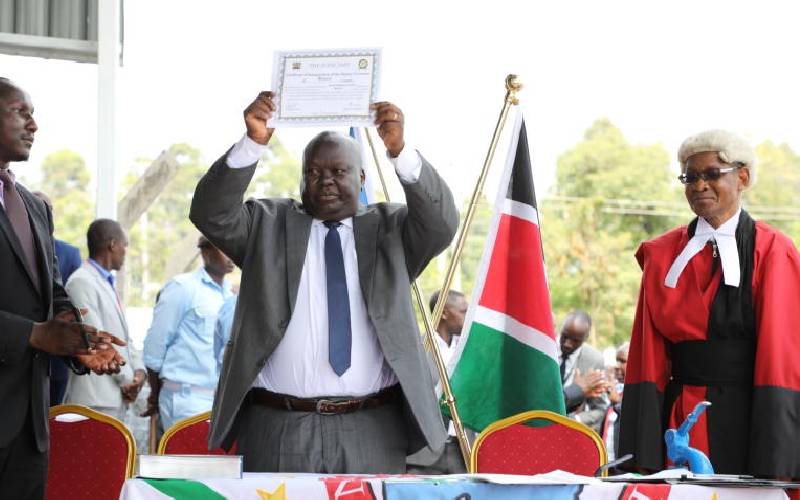 Nelson Mutai from Bomet Central subcounty will be sworn in as the elected assembly speaker.
But his election was not uneventful.
Bomet MCAs on Friday broke into a fight during the election of a new speaker.
Read More
Mutai garnered 24 out of the 27 votes.
The post fell vacant after speaker Shadrack Rotich was named Deputy Governor.
Some of the MCAs insisted that the new speaker has to be form Konoin subcounty since the majority of the county leaders, including the governor, his deputy, senator and woman representative are from the other constituencies.
But Embomos ward rep Robert Serbai was roughed up and ejected from the chambers as the rest of the MCAs carried on with the day's business.
Rotich resigned from his position last December, paving way for his swearing-in as Deputy Governor.
Rotich tendered his resignation to the clerk of the county assembly Isaac Kitur after his appointment as deputy governor was approved by ward representatives.
The ceremony at the time had been delayed after Rotich failed to resign from the speaker position.
Governor Barchok picked him for the position in a surprise move setting off a heated debate. Many had hoped Barchok would settle on a woman as his deputy in honour of late Governor Joyce Laboso.
The governor however defended his choice of Rotich.
He said his vast experience would help him deliver development in a short period. "A deputy is like a life partner, you make a wrong choice you are doomed and that is why I decided to settle on someone I can work with without problems," said Barchok.
Women leaders also faulted the governor for his pick.
Maendeleo ya Wanawake Bomet chairperson Sally Kirui said the choice had rolled back gains made in mainstreaming women leadership.