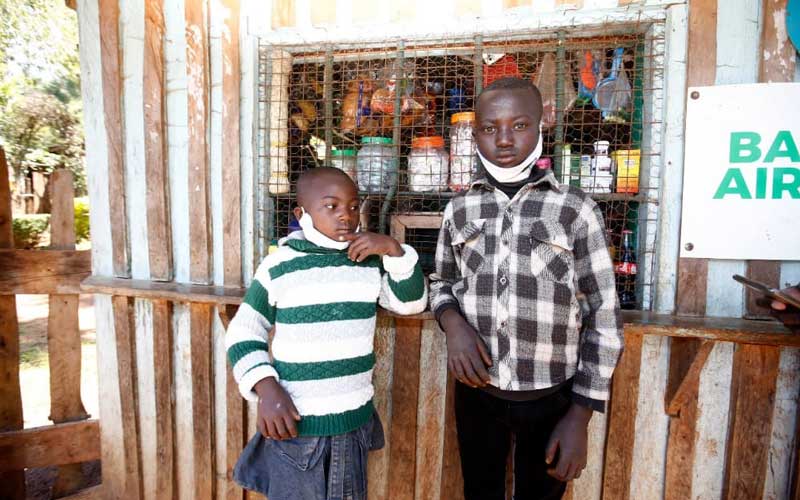 More help has trickled in for two children whose argument on how to spend Sh10 at a shop in Nyandarua went viral.
Teresiah Nyakinyua, 7, and James Mwangi, 9, were filmed disagreeing on whether they should buy two pencils, one for each, or a pencil and a rubber for one of them.
The two, with their parents, were on Thursday hosted by Deputy President William Ruto who pledged goodies for the family.
"Teresiah Nyakinyua and James Mwangi from Kwa Nganga village in Nyandarua County, remind us of our childhood in our rural homes; the daily challenge of budgeting for so little in the face of many needs.
"To ensure they have a stable foundation to make their dreams come true, I have assigned my farm manager to personally ensure their parents establish a fully-funded 500-chicken farm," DP Ruto said.
He added, "The two represent our collective story of possibilities as a people."
In an evidently chilly morning, the video recorded by a shopkeeper shows the boy and a girl, pupils at Bora Primary School arguing on how to spend the money but what they wanted was worth more than Sh10.
Teresiah Nyakinyua who had been given the coin by her mother, wanted to buy a pencil and rubber as her elder brother James Mwangi insisted that they should buy two pencils, one for each.
"The money was given to me and all I want was a pencil and a rubber," Nyakinyua said as her brother responded with "We are buying two pencils, one for me and another for you."
The shopkeeper, Mr Daniel Gacheru explained that the incident happened in February and was torn between the demands of each and knew he had to make a decision before the two could be late for school.
"Ten shillings would only be enough for a pencil and a rubber or two pencils. They couldn't agree. They became too dramatic and emotional that I thought of recording," said Gacheru.
The video ends with the boy teasing and commanding his sister that she should not speak as he speaks and they will only do what he decides with the money.
"I decided to solve their argument off the camera. I had to incur an extra cost of Sh10 to give them what each wanted. It was not a debt. They left for school happy without bile against each other," said Gacheru.
It was until last week that the video was leaked and widely shared leaving Kenyans in stitches.
"I never intended to share the video. Five months after recording, I accidentally sent it to one of my contacts for the first time. I warned the person against sharing since they were minors and I had not informed the parents," said Gacheru.
Leaking roof
When The Standard visited the family last week, it emerged that this was the only money the family had to offer the children for the stationery.
They live in a semi-permanent two-bedroom house with a leaking roof and no furniture save for two weak wooden frames from an old seat. The floor tells that the house was recently flooded.
We found the siblings' mother Mary Wambui preparing lunch for the family in a smoky makeshift kitchen measuring five by six feet that had partly collapsed.
"My last born daughter was sick. I only had Sh10 in excess of my transport to the hospital. I gave it to my daughter and told my son to wait until the next day as they left home," Wambui recalled.
Wambui, a stay at home wife with seven children, explained that her husband Simon Mukundi was jobless.
"A friend came across the video online and asked me to confirm whether the two were my children. The shopkeeper came to apologise for releasing the video but I assured him I had not taken offence," said Mukundi.
Mukundi explained that he was shocked by the kind response Kenyans had shown the family.
A land buying company and an iron sheets factory have commenced the construction of their new permanent home.
"Well-wishers have been coming here daily. They are constructing me a three-bedroom modern house complete with a shed for animals which I believe with time I will own. The amount of food and clothes donation received is overwhelming, " said Mukundi.
Faith Gitau, Nyandarua County MP, who visited the family has offered full scholarships to the two children and a medical cover for the lastborn who suffers from cerebral palsy.
"Thirst for education brought the two children to the limelight. I will cater for their education to the extent they wish to pursue. I have dispatched a wheelchair for the girl with cerebral palsy and will cater for her therapy sessions and other medical expenses," said Gitau.