Bookshops turn to selling mattresses as pandemic hits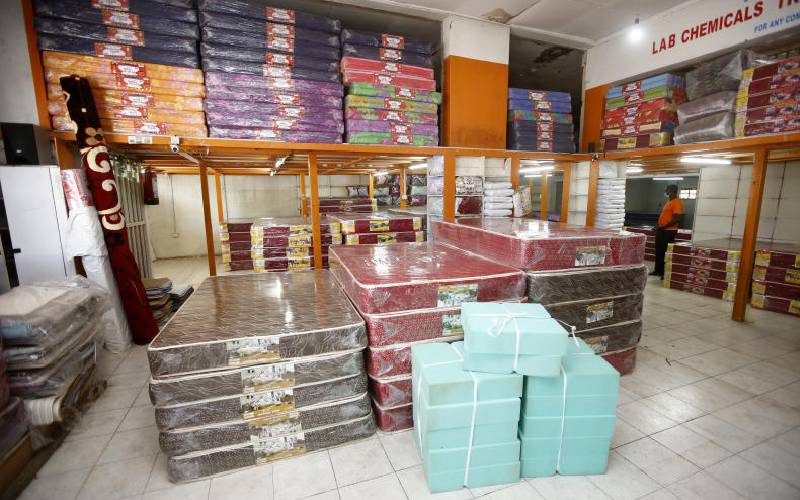 From afar, the four-storeyed building that hosts Vision Academy in Subukia, Nakuru county, is magnificent, a perfect private school with playing equipment doting the lower part of the playing field. Until one gets nearer, the impact of Covid-19 pandemic unfolds.
Its entire two-acre playing field has been ploughed, teachers have made classrooms a home. A building on the furthest corner turned into a water bottling plant where teachers are engaged in the new venture. The water will be sold at one of the branches of Nakuru Book Point bookshops which is in the process of changing business.
The playing field will be planted with vegetables to sustain the teachers running without income as the school no longer generates money.
"It is sad. We are hardest hit by the pandemic. I run a school and two bookshops in town and mine is a double tragedy. The school is on its knees and the bookshop is doing badly off. That is why I have to convert it to a water shop once I get all clearance and licences so that teachers will operate and earn something to sustain them," said Albert Kimani, the proprietor who doubles up as the chairperson of the Kenya Booksellers Association, Nakuru Chapter.
The Nakuru chapter brings together booksellers from Nakuru, Baringo, Laikipia and Nyandarua counties, members who Kimani says, are all feeling the impact as schools owe them more than Sh210 million in arrears.
Most of the booksellers in the region have either closed shop, sent home over 75 per cent of their workers, while others have resorted to changing the nature of their businesses.
"In Nakuru town booksellers have closed their branches and are currently struggling to pay rent. While those in Naivasha, Nyahururu, Nakuru, Nyandarua, Laikipia and Baringo have scaled down. Others have converted bookshops to selling mattresses, food, while others are selling masks and carrier bags. Others have even closed shop," Mr Kimani said.
And while his is a double tragedy, he is housing 12 teachers in school, some within the dormitories, others in classrooms and others occupying the few quarters within the school. His decision to convert one of the bookshops to sell water, he says, is to try and generate some income to help teachers buy food.
"There is no need for the field to lie idle while I have hungry teachers. Online learning failed because parents could not pay and the bookshops are not generating money. However, I had to invest Sh300,000 in a water bottling plant to generate income to keep teachers going. The licencing costs and permits are however very high but inspections and tests have since been done and almost done with remaining processes," he said.
According to Kimani, the schools often advertise for tenders to be supplied with learning materials in November every year. The booksellers often go for bank loans to enable them meet the supply demands, which is often paid by schools within the period.
The onset of the pandemic however came at a time when booksellers had supplied books to schools. Some schools, he said, had made partial payments while others made none as they wait for the government to release the second batch of funds.
Since the government started supplying books to schools, booksellers have been supplying stationery including chemicals and sports items. Book sellers have also been selling books to parents directly.
A step in to Patmat Bookshop on Kenyatta Avenue in Nakuru shows it is not business as usual.
Mattresses and duvets take the ample spaces on the floor. Beautiful carpets line the walls and neatly arranged bedding replace books on the shelves.
"This is one of the busiest streets and we are making very little sales that can neither pay rent nor even pay employees. Since children are at home, they are sleeping and eating and we ventured into selling mattresses," Mr Patrick Gitau, the owner of Patmat Bookshop said.
Gitau is also part of the booksellers who had taken a loan to supply schools with stationery. He is servicing the loans and has to pay rent and workers as well as essential services like electricity bills. He has since converted one of the two shops so that the other one serves as a store for books and uniforms.
"We were expecting schools to be opened by September but that has not been the case. We still are not even sure whether the curve will have flattened by January. We have bank loans to service, rent to pay and other bills to settle. The schools that we had supplied materials to are yet to receive money from the government and that is why we have to explore options of survival as booksellers," Gitau said.
He said while the government had taken the initiative to supply textbooks to schools rendering losses on their end, the onset of pandemic has further dealt a blow with the little earnings they were anticipating piling on schools.
"The challenge is that I cannot close the shop because getting back the space once pandemic is over is hard, again, the interest in banks loans is huge and we have to do something to survive. Most workers are now home and even those that remained have to take a salary cut because we are struggling to pay rent and service loans as well as other bills," he said.
Just like Nakuru Book point that had over 15 workers and currently remaining with four, Patmat Bookshop had more than 30 workers but currently only three are running the new business.
At Honest Bookshop, the scenario is the same. Out of 15 employees working in the two shops in Nakuru town, only four are still under payroll just to keep the shops open. Here, plans are also underway to convert the business.
"The situation is tough and paying rent is the greatest challenge. With five months ahead before the schools open, we might not be able to operate both shops and we have to finally close," John Mbugua, the owner of the bookshop said.
Ereto bookshop, one of the largest bookshops within Nakuru town that was operating in three floors have scaled down and operating in only one floor. Stan Bookshop has since closed its branches in Ol kalou town in Nyandarua and Nyahururu in Laikipia county.
According to Kimani, most bookshops in Naivasha have also resorted to selling masks while most that had branches have closed and are remaining with only main shops as stores.
"Booksellers are frustrated and government should consider their plight by releasing funds to schools so that they can settle their debts," he added.