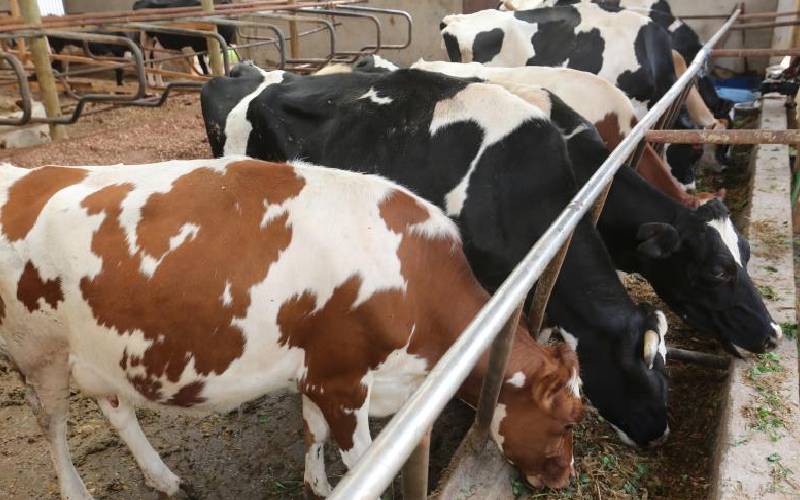 Milk hawkers are cashing in on disgruntled farmers after dairy processors and co-operative societies dropped the price at which they buy the product.
Players in the dairy sector said farmers facing various financial needs are opting to sell their milk to hawkers who pay cash and are reportedly offering a better bargain.
Paul Kerich, a farmer in Nandi County, said hawkers are paying between Sh30 and Sh40 per kilo of milk, which is higher than what processors are offering.
"Farmers need better pay and prefer cash to enable them to sustain their livestock. Further, hawkers buy from the farm, thus minimising transport costs," he said.
Read More
Kerich appealed to his county government to speed up the ongoing construction of a milk processing plant in Kabiyet to enable farmer to pool their produce for value addition.
Stanley Ngombe, the chair of the Kenya Dairy Farmers Association (KDFA), said despite favourable conditions for high volumes of milk production, dairy co-operative societies were recording low deliveries.
"The issue of milk pricing has seen most farmers sell produce in the informal market rather than through existing (co-operative) societies," said Ngombe. "Most farmers also prefer ready cash."
Ngombe, who is also an official at one of the dairy co-operative societies in Nandi County, said although they have contracts with milk processors for supply of milk at Sh36 per kilo, payment has not been consistent, forcing them to use overdrafts to pay farmers for their supplies.
He said farmers who supply produce through their society are paid Sh30 per kilo, but are then deducted costs of transport and other administrative costs, taking earnings to as low as Sh26 per kg.
Hawkers, he said, are readily accessible to farmers using motorbikes and are now a competition with formal supply chains.
However, processors and co-operatives carry out quality checks to ensure the milk received is free from adulteration with water and chemicals should farmers have recently dewormed their cows.
There are fears that the produce rejected by co-operatives ends up consumed by unsuspecting consumers who buy them from hawkers.
Samuel Yego, the Uasin Gishu County executive for agriculture, said hawkers tend to deliver milk to kiosks using bicycles and motorbikes.