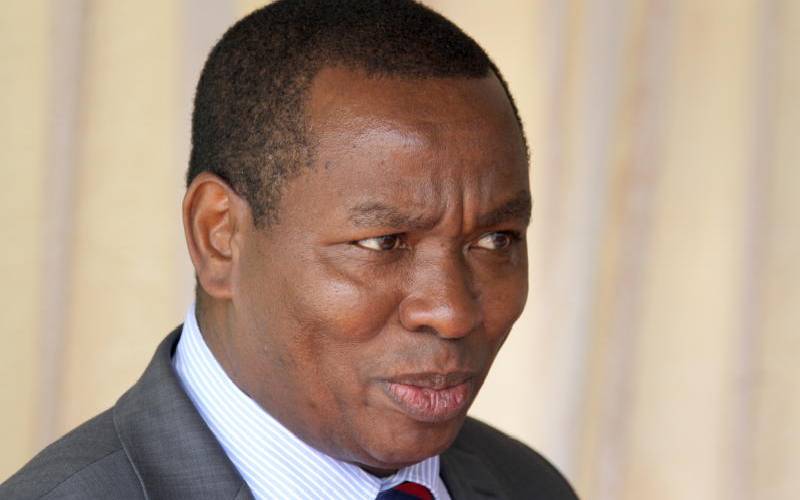 Baringo and Laikipia leaders held meeting to resolve a dispute over ownership of a piece of land along their common border.
Both counties claim ownership to the land, which cuts across Thigio in Githiga and Marmanet Wards of Laikipia County and Kiambogo and Matigari villages in Muchongoi, which is in Baringo.
The dispute arose after individuals from Laikipia started developing some pieces of the land that villagers in Baringo claimed belonged to them.
Documents show the land was previously owned by Laikipia Farmers Cooperative Society, but some individuals who bought the land, have encroached into the Baringo side.
In Baringo side, a huge chunk of the land lay idle after residents vacated due to perennial livestock theft by bandits, and relocated to Muchongoi and Kabel areas, while others left to safer areas.
Over the weekend, Laikipia Governor Ndiritu Muriithi (pictured) and his Baringo counterpart Stanley Kiptis sought to help quell the mounting dispute and called for residents from both regions to remain calm as the government looks for the best solution.
The duo toured the disputed area and said a multi-agency committee comprising relevant departments would be formed to look into the matter and also provide a solution.
"We do not want more tension or even clashes between residents of the two counties. That is why we have created a team of government officers from the two counties to look into the matter and have a solution. We want the residents from the two counties to live in peace," said Muriithi.
Residents claimed they had used the land for decades, but trouble started brewing soon after some investors started developing the land and erecting fences, a view they feel will negatively affect their day-to-day activities.
Mr Muriithi called for patience as the multi-agency team scrutinised physical boundaries and relevant documents to make informed decision.
Mr Kiptis underscored the need for communities to live in harmony.
"Let us be calm as a solution is sought. We should not fight, the land belongs to all of us," he noted.