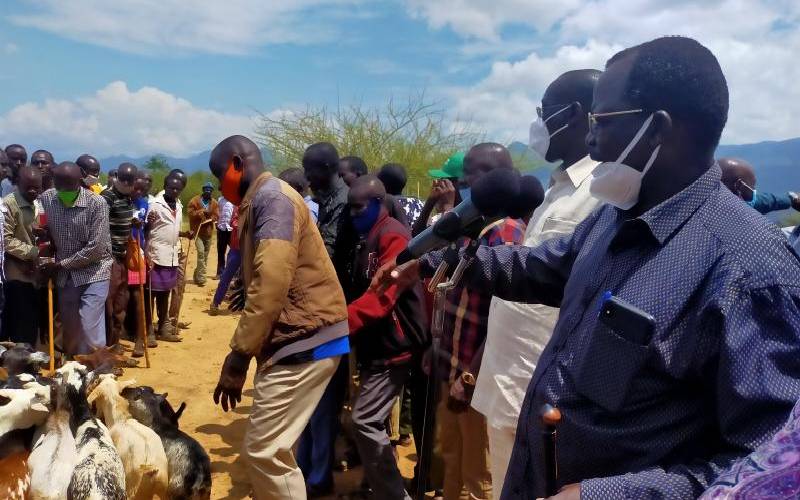 For close to two years, guns have been silent on the West Pokot-Turkana border following voluntary disarmament and peace efforts by elders and local leaders.
Jennifer Akor, a resident of Takaiywa village on the West Pokot-Turkana border, says the area used to be a battlefield whenever bandits struck. She says bandits would make away with hundreds of livestock, which were never recovered.
"The bandits had taken over the Turkwel corridor. We were forced to sleep in the bush. However, the situation has changed for the better after we decided to embrace peace," she says.
She says they are expecting a bumper maize and vegetable harvest. They planted the crops around River Turkwel, which had initially been deserted due to cattle rustling and banditry attacks in the area.
"We decided to focus on peace after years of experiencing banditry along the corridor. For the past two years, we have not recorded any case of cattle rustling," she says.
Read More
She says locals are now mingling freely and grazing together without worrying about attacks.
"We go to the same shopping centre and even intermarry," she says.
Damaris Asipitali, another resident, concurs: "I can now cross the border to West Pokot County and search for gold without fear of being ambushed by bandits.
"I can leave my livestock at home and find them untouched when I return," she says
The prevailing peace in the region is a result of an initiative by locals and leaders from Pokot and Turkana communities to bury the hatchet and end hostilities.
The border peace is expected to reduce poverty levels as locals can now engage in socio-economic activities like farming without any worry.
West Pokot County Commissioner Apollo Okello says since 2018, the Turkwel corridor has been peaceful and cattle rustling has been eradicated.
Two criminals
"We have not experienced cattle-rustling for the past two years. Two weeks ago, two criminals invaded Takaiywa area and stole 30 goats. Fortunately, they were arrested and the goats recovered. This was the first theft we have experienced in two years," Okello says.
He says the two communities are now on high alert and no longer tolerate thieves among them. He adds that the police have also intensified border patrols.
West Pokot Governor John Lonyangapuo and his Turkana counterpart Josphat Nanok attributed the peaceful coexistence to frequent peace meetings among the two communities and political goodwill.