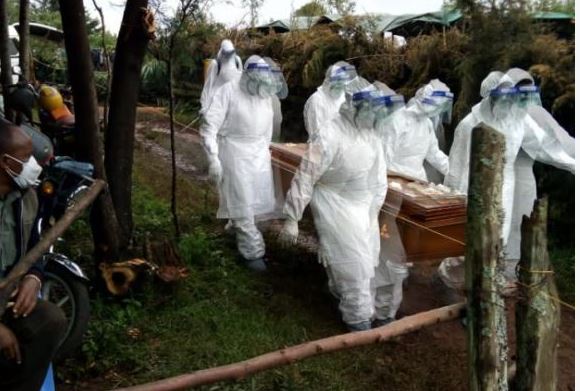 A 33-year-old Covid-19 patient who died in Machakos County hospital, has been buried in his home village in Lemotit in Kipkelion East constituency.
The late Isaac Sigei, a former machine operator in a Nairobi based company, was buried under strict Covid-19 burial protocols overseen by public health officers.
The afternoon burial ceremony lasted under 45 minutes with mourning family members required to wear face masks, observe social distance and thoroughly wash their hands.
Read More
Robert Bii, a brother to the deceased, said before being struck down by Covid-19, his brother was asthmatic.
"We don't know how exactly my brother contracted Covid-19. What we know is that he fell ill and was first admitted at Shalom hospital in Athi River. However, when the health facility was temporally closed over Covid-19 explosion, he was transferred to Machakos County hospital where he succumbed to Covid-19," he said.
Kericho County Surveillance team chairperson Dr Betty Langat allayed fears that the deceased came into physical contact with a section of his family members in Kericho. "There is no reason for panic," she said.
Former Roads Cabinet Secretary Franklin Bett who is also the proprietor of Kericho's Siloam Hospital expressed disappointment over the increasing don't-care-attitude towards Covid-19.
"A section of Kericho residents think the disease is a joke and no longer stick to Covid-19 protocols. This can spell a disaster to the county," he said.
The former State House comptroller called on President Uhuru Kenyatta to reconsider reintroducing travel restrictions into and out of major towns to curb the Covid-19 spread.
"Before easing of the restrictions, the Health Ministry used to report less than 100 Covid-19 positive cases, but as soon as they were lifted, the country is reporting up to 500 cases. This is very alarming. The president might as well reintroduce the travel restrictions," said Bett.
But, Governor Paul Chepkwony said his administration was ready to "face Covid-19 head-on".
Kericho is one the counties which has taken a lead against Covid-19 by partnering with United States government funded, Walter Reed Project Laboratory Center to conduct medical samples locally.
"In terms of quarantine units, we have well over 300 isolation beds, 13 ICU beds and more that 2,000 quarantine beds. We don't envision an explosion of the disease in the county. That is if the residents adhere to the government's Covid-19 guidelines," said Chepkwony.
Four Covid-19 patients are currently admitted at the Kericho County hospital while four others are recuperating at home.
"Six Covid-19 patients have since recovered and resumed their normal lives," he said.