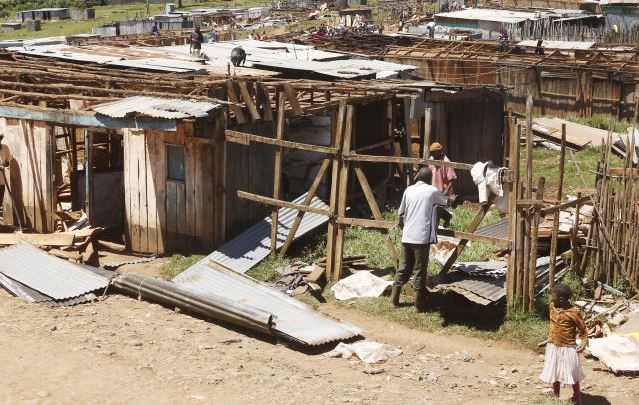 Jane Koech, 67, is in a trance as she stares at a pile of timber that once used to be her house.
Besides the wood are her belongings - clothes, utensils and shoes all stashed inside a sack. On another pile lies the iron sheets that were once her roof, doors and windows.
Mrs Koech is one of hundreds of families targeted for eviction within the 57,000-hectare eastern Mau Forest. She is also a member of the hunter-gatherer Ogiek indigenous community.
"I have nowhere to go. I have children who are also stranded since their houses were destroyed. It is sad but it seems the government is eating its people," she said.
Marioshoni, the area where her house was reduced to rubble, has been her only home, she says. It was here that she was brought up, got married and raised her children.
Read More
Her son, Alexander Koech, also appears helpless. He has sent his wife back to her home in Njoro to keep their two-month-old son safe from what is happening.
Alexander says the evictions to reclaim the forests are unfair to the community who in 2017 won a land rights case against the government at the African Court on Human and Peoples' Rights.
In its ruling, the court said the government was wrong to kick them out of the forest without offering them another area to resettle.
"We won a court case and are still waiting for the government to implement the ruling and give us an alternative place to live. The same government we won against is throwing us out of our homes without implementing the ruling or giving us a way forward. We were not given notice to vacate our homes," he said.
In other villages in the vast forest, residents continue pulling down their houses to safeguard the property from being razed. Shops and other informal businesses also moved their services away from the targeted zones.
"We are bringing down the houses because Kenya Forest Service officers told us to vacate by Monday. We want to salvage the timber and property to protect them from being torched like what happened in neighbouring villages," said Alexander.
While the community insists they are legally in the forest and waiting for a task force formed to inform on implementation of the court ruling, the KFS views them as intruders and wants them gone.
According to Mau Ecosystem Conservator Frank Misonge, 28,000 hectares of the eastern Mau Forest have been degraded by families who continue to clear land without title deeds, thus making it difficult to conserve the critical water tower.
"The encroachment is massive and many families will have to move out. We have already given them notice to vacate the forest land before Monday when officers will be on the ground to make sure they comply," Mr Misonge said.
valid documentation
He added that KFS was targeting Marioshoni, Bararget, Kiptunga and Ol Posimoru areas for restoration. "All those places that have been cleared and turned into shopping centres, farms and residential areas were once forests. There is nobody with valid documentation."
Rose Towett, a resident, accused the KFS of failing to "communicate the way forward" for the Ogiek community.
"Although there are many communities living among us, the government should consider the Ogiek. We were not given prior warning since the KFS officers started destroying structures built in the forest by herders before torching people's houses and properties," said Ms Towett.
She added that lack of information on the boundaries of the restricted areas made it difficult for them to know their fate.
"They are not telling us where they will stop. They are only warning us to move our property or they will destroy it."
Felix Kipkemoi, another resident, expressed dismay at the evictions. "We won in a local court and an international court. We are still trying to understand the meaning of the ruling with all these happenings."
But Misonge said the Ogiek had been hiding behind the court ruling to further encroach inside the forest. "We are targeting specific areas that were once forests. We are serious about reclaiming the land."
The Arusha-based court had found that the community was illegally evicted from their ancestral land in the water catchment tower, and that their rights were violated.
The court found the government had forcefully ejected the Ogiek from the Mau Forest Complex and infringed on their rights to enjoy land ownership and own property.
The government was also found guilty of barring the community from accessing and utilising the forest's natural resources. It also violated their right to practice cultural and religious activities.