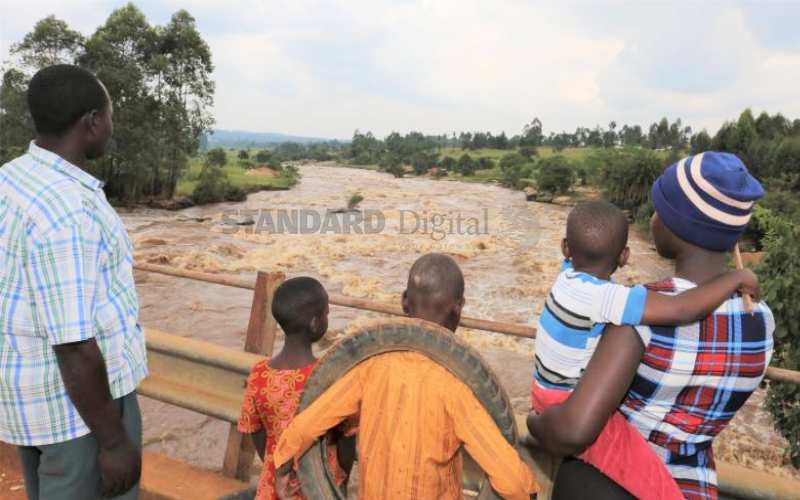 Luyekhe village on the border of Kakamega and Bungoma counties is still in shock after an expectant mother threw her three children in to a river and then jumped in.
Winny Kulangwa, 24, threw the children into River Nzoia at Mikua area about 9pm on Sunday.
Luckily, one of the children survived to tell the story.
By last evening, search for bodies of Ms Kulangwa and her two children aged one and four, was still going on.
Villagers joined divers deployed by Kakamega County to look for the bodies in the swollen river.
Read More
The woman is said to have to have taken the children to the nearby Nzoia Bridge and threw them into the water, one after the other, starting with the eldest, a seven-year-old girl, who survived.
The woman lived with her elder sister Alice Matende at their parents' home.
The girl who survived is a pupil at Mbaya Primary in Kakamega. Locals described her survival as a miracle.
Kulangwa's relatives said she returned to Luyekhe a week ago from her matrimonial home in Mautuma, Kakamega and showed no signs she was disturbed.
The girl said her mother asked them to accompany her to the shop. However, when they got to a certain shop, she insisted that they proceed to a different one.
"It was dark and when we reached the bridge, my mother asked us to close our eyes for a surprise. She then grabbed me and threw me into the river. I was swept away by the water. I clutched onto some roots on the edge of the river," the traumatised girl said.
She continued: "I struggled and got myself out of the river. I walked back to the bridge and I found no one. I broke down. Moments later, a man picked me up and took me to his house."
Mr Joseph Chom, a resident of Mautuma who found the girl, said he had seen light from a spotlight coming from the bridge before he heard a child cry.
"She later explained to me what had happened," he said. "I called my village elder and area chief before reporting the matter to the police."
Residents said Kulangwa's spotlight and a handbag were found at the bridge.
Matende said she left Kulangwa and her children in the house but did not find them when she returned. At first, I thought she had gone to a neighbour's house only to learn later that her children were also missing.
"I had left her with my daughter. When I returned, I asked my daughter where she had gone, and she said she left with her children. We were later informed that she had drowned her children and herself," she said.
Kulangwa's grandfather Moina Omutoko,73, said she never complained about anything.
Mr Martin Anyonge, a local Kenya Red Cross officer, said it has been a challenge retrieving the bodies because the river is swollen.