Mass livestock vaccination against foot and mouth disease kicks off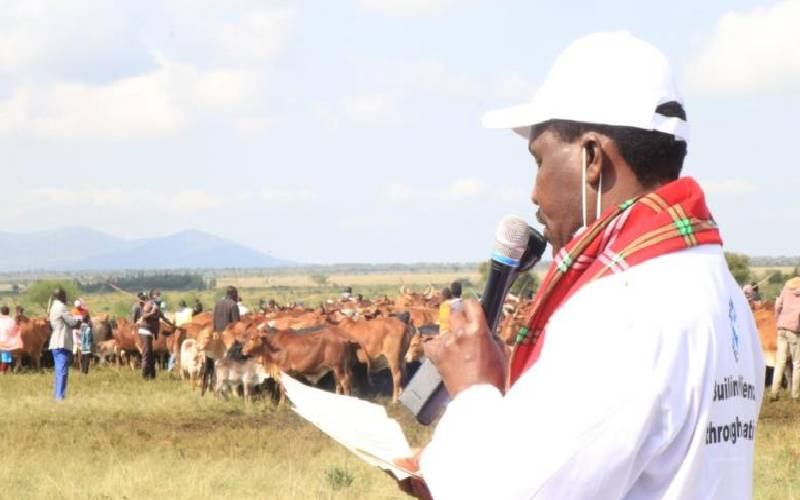 More than 100,000 head of cattle will be vaccinated against Foot and Mouth disease in fresh efforts to cushion the local livestock market from cross-border diseases.
More than 500,000 cows are supposed to be vaccinated, but the Ministry of Livestock Development has released vaccines for only 100,000 animals for the first phase of the exercise, which will take 14 days.
Livestock experts say a successful vaccination should cater for at least 80 per cent livestock population in a given area.
Last week, Agriculture Cabinet Secretary Peter Munya launched a countrywide vaccination against Foot and Mouth disease at Oloosuyian in Kajiado Central, and urged the local community to avail their animals for vaccination.
There have been concerns over a rising threat of cross-border diseases from neighbouring Tanzania.
"Vaccination is a devolved role but we are coming in to support due to the threat posed to the country," said Munya.
He decried low prioritisation of vaccination in the counties. The CS urged county governments to move fast and curb trans-boundary transmissions, which are high during this period as people resort to using illegal routes due to movement restrictions imposed by the government.
"At least 90 per cent of the population within arid and semi-arid areas depend on livestock products including meat, milk, and hides. Therefore, we should develop strategies to protect the animals either by controlling the spread of diseases or even completely eradicating them for the benefit of our people and the economy," Munya said.
According to the CS, the spread of the disease poses a greater danger of complete eradication of livestock due to the failure of financial commitments by county governments.
Kajiado Livestock executive Jackline Koin said the vaccination was meant to improve the quality of animals as Kajiado residents rely on livestock rearing as their major source of livelihood.
Ms Koin said the county has more than 600,000 cattle and more than two million goats and sheep.