Floods destroy key seed farms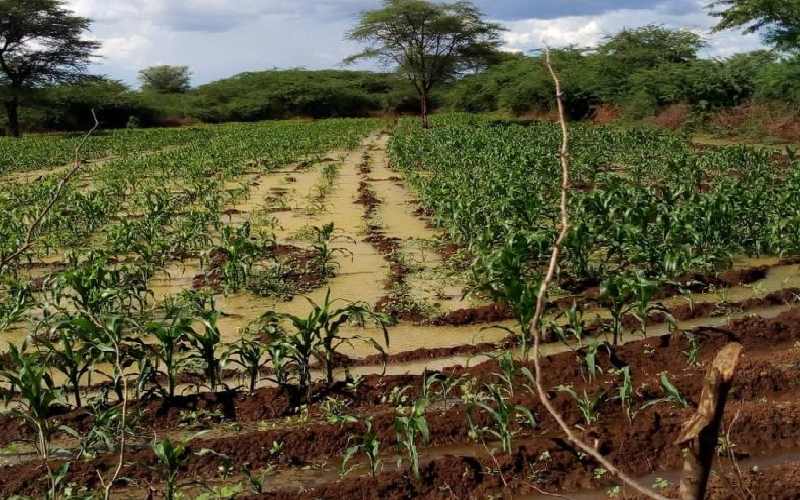 Flash floods have destroyed a plantation of maize meant for production of seeds at the Perkerra Irrigation Scheme in Baringo County.
Authorities have estimated the loss incurred at the Marigat based scheme at Sh21 million and explained that the flooding may impact the next maize planting season.
According to the scheme manager, Wafula Simiti, at least 120 out of 2,300 acres of land under maize seeds production have been flooded.
Simiti said an additional 3,000 acres of farmer-managed schemes have been submerged. Kenya Seeds and Monsanto companies had contracted the farmers to produce 2,300 acres of seeds.
"The economy of the locals will be affected because a number of farmers depend on the production of certified seeds for income. The seeds boost agricultural production across the country," said Simiti.
The 120-acre farm has a capacity of producing 2,640 bags of 90 kilogrammes of seed maize and 480 bags for consumption.
Floods at the scheme are attributed to heavy rains witnessed in the Rift region and flooding of Lake Baringo.
Maize seeds grown at the scheme are for a short season. The crop was expected to be harvested in the months of August, September and October before being affected during the flowering stage.
"This is the first time that the main irrigation scheme is witnessing floods that used to affect farmer-managed schemes," said Simiti.
According to an agreement between the National Irrigation Board (NIB) and the seeds production companies, a 90kg bag of seed maize is sold at Sh6,500.
Average production of seed maize per acre at the irrigation scheme is 22 90kg bags. After harvesting, the seeds are supplied to Kenya Seeds Processing Company in Kitale for field trials and inspection of fungal among other diseases.
Sorting and aflatoxin tests are also conducted for the safety of the seeds before they are packaged and later distributed to maize growers across the country.
"Seeds grown at the scheme is for short season whose production is closely supervised by the Kenya Plant Health Inspectorate Service to ensure they meet quality standards," said Simiti.
According to NIB, there are eight farmer managed schemes namely Eldume (350), Kapkuikui (137), Kamoskoi (450), Murda (270), Lemarkweny (200), Sandai (400) and Mosuro (nil acres).