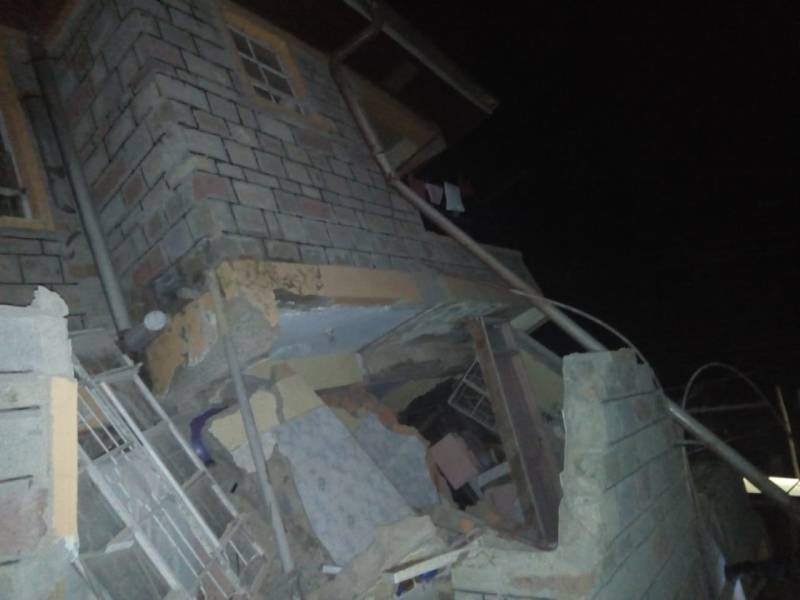 A six-year-old boy who spent hours trapped in the rubble of a collapsed building in a Kericho County has died.
After six hours of search and rescue mission, going through tones of rubbles, the local emergency team led by County Police Commander Silas Gichunge and Kenya Red Cross Society coordinator Sifia Tuwei retrieved the body in the wee hours of Wednesday morning.
The three-storey residential building that housed six families, started showing cracks on Sunday before slowly sinking and eventually collapsing on Tuesday night at 7:30 pm.
The retrieval of the body was a blow to the child's mother and other family members who held vigil at the site praying against the odds that the boy would be found alive.
Read More
"It's unfortunate that by the time rescuers managed to get to the boy, he had succumbed to the injuries after the walls of the house he was living in collapsed on him," said Gichunge.
Tuwei said the deceased's mother, brother and a housemaid were accounted for. The family lived on the third floor of the ill-fated building.
"The heads of the five other households accounted for all the family members. We are not however certain whether there were other people in the building," said the Red Cross official.
Gichunge added that the building's caretaker could not be traced. The individual was not living in the ill-fated building but in an adjacent wing and the police suspect that he fled the scene upon the collapse of the building.
Tebs View Court owner, Charles Chaglano, a prominent Kericho contractor and a local vernacular radio station owner, made a brief appearance at the site at night before melting into the crowd.
One tenant in the building accused the landlord of negligence.
"Huge cracks began developing on the building a few days ago but he came around to inspect it on Monday. The knocking around of construction workers he brought in an attempt to reinforce the building ended up making the racks to develop further until it collapsed last night," she said.